Miami Peacock Bass Report
Capt. Tony Fowler
February 3, 2014
Miami - Freshwater Fishing Report

Wow!! What an amazing start to the New Year it has been for the Miami Peacock Bass fishing season. The Peacock bass fishing is in it's full winter pattern swing, which is one of the best times of year to target these voracious and beautiful inshore game fish. We're having trips with non stop action from the tie we leave the ramp up until we arrive back at the end of the day.
The fish are now keying in on larger baits, since the summer minnow hatch has mostly run it's course. I'm finding Peacock Bass in the deeper areas we fish, due to lower water temps in the shallower areas. Basically find the right water temp, and you'll find the fish. Most fish are being caught using lipless crankbaits that run deep, DOA Terroreyz thrown up close to the structure, and Clouser Flies in bright colors have been taking their share of Peacock Bass too. Of course live bait will do the trick too.
I had the pleasure, and honor to take a couple of charters out for some Peacock bass fishing recently. Both gentlemen had informed me before their trips that Peacock Bass were on their Bucket List of fish to catch...Music to my ears. It's really a great fishery we have right here in our own backyard folks,and not having to travel to the Amazon to catch them is a big plus. Both clients were from out of state visiting and defrosting from up north. Johhny P. is an avid Bass tourny fisherman from N.J. who was really pumped up for the trip. He was amazed at the strength of Peacock bass compared to the Large Mouth Bass he used to catching. Needless to say he went back home with plenty of memories of how Peacock Bass fight. It was a great day out there with him.
On my second trip I met Bill.W from Atlanta at the ramp for a day of Fly fishing for these brutes. I gotta tell you it's a blast getting them on flies. They smash them with such force that the flies don't really last too long after repeated attacks. Also the fight is a lot longer when fighting them on a fly rod. I just might dust off my fly rod...lol. As a bonus Bill also caught a 10+lb. fresh water Jack Crevalle to boot. Now talk about a fight!! He was super surprised, and what a way to end the day!
We took a few pics of the trips for memories and agreed to do it again in the future.
As always thank you for reading our reports, and I look forward to the next. Tight lines
Johnny's Trip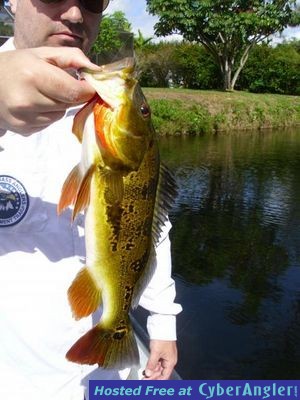 Bill's fly fishing trip.

Capt.Tony (305) 775-1136
www.miamibackcountrycharters.com/
Target Species:

Peacock bass Tarpon Snook large mouth bass
More Fishing Reports: