Mixed Bag in May and June
Capt. Orlando Muniz
June 21, 2016
Miami - Saltwater Fishing Report

Over the last month or so, the fishing has been pretty good as long as you are not focused on any single species. The key to success has been to approach every day with an open mind and take advantage of what nature throws at us. Starting in May, many of us start dreaming of weed lines that stretch for miles with dolphin cruising up and down just waiting for an easy meal. So far this month, that hasn't been the case. Yes, some mahi have been caught, but the numbers aren't very consistent. I'm sure that once we settle into our normal summer weather patterns, the fish will push through in good numbers. Last year was one of the best that I can remember as far as the dolphin fishing is concerned.
The slow mahi bite has made us focus are efforts the areas wrecks and reefs. We've caught a large variety of fish using several different fishing methods. Techniques have included drifting, slow trolling, power drifting and even anchor fishing when the conditions allow. Some of the fish we've been catching include sailfish, kingfish, bonito, barracuda, and all types of jacks and snapper. All in all, we have probably caught at least 15 different species of fish during the last month. On one trip alone, I counted almost ten.
Exactly what we catch depends on conditions. On days with light or no current, we have been fishing deeper and catching red and mutton snapper, almaco jacks, and amberjack. Most of these fish are being caught on deeper wrecks and rock piles while we power drift. All of our fish have come on live baits but many of these fish will willingly eat a well placed vertical jig.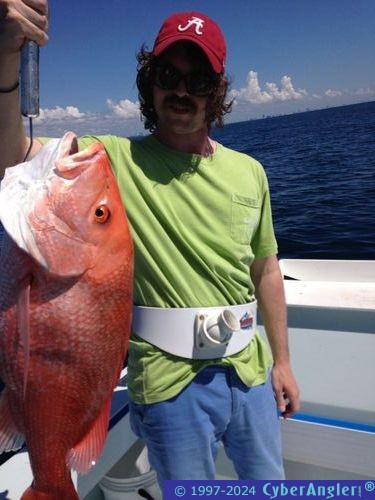 On other days with blue water and north current, we have managed to catch kingfish, sailfish, and even a couple of mahi. All of these fish have been caught while drifting along the edge of the reef and using live bait. We caught a couple of late season sailfish using the kite.
Last week I fished with one of my repeat clients and his boys. In the morning, we tried to target mutton snapper and grouper but couldn't seem to stay connected. We did manage to catch a beautiful hog snapper, several amberjack, a barracuda, and other assorted fish. Later that day, we anchored up and caught half a dozen yellowtail to 18". We could have caught many more but a bunch of large jack crevalles staked out the area behind the boat and picked off many of our baits. The boys had fun landing a couple of the big jacks, and a large shark too.
On my last trip, we had a bunch of action while sitting on the anchor. Our trip got off to a slow start due to many boats fishing the same areas and making it difficult to find a good place to anchor. Once we topped off the live well with the right bait, we found a good area to drop the hook. The first bait wasn't on the bottom for more than 30 seconds before a huge amberjack inhaled it. After that initial bite it was non stop action for the next 3 hours. We ended the morning with 5 mutton snapper, 4 amberjack, 1 cobia, and a barracuda. The anglers also had some pulled hooks and cutoffs.
Finally, I'll be conducting another seminar on "Summer Snapper Fishing" at Miami Bass Pro Shops (Dolphin Mall) on July 6th at 7:00 P.M. More information will be available on my website and Facebook page as it becomes available. Hope to see everyone there.
Well, that's pretty much it for right now. Also, don't forget that you can keep up with all of the action by following us on FACEBOOK, Instagram, and Twitter. If you like watching some of the action, be sure to check out my YOUTUBE page for the latest video additions.
SPONSORS AND FRIENDS: Mercury Marine, Bass Pro Shops, Offshore Angler, Orca Coolers, SeaDek, Costa Del Mar, Yo-Zuri.
Tight Lines,
Capt. Orlando Muniz
Nomad Fishing Charters
fishingchartermiami.com

Miami Fishing Forecast:

Expect dolphin fishing to improve as soon as we get more easterly winds. In on the reef, the snapper bite should continue to be strong throughout the summer.
Target Species:

snapper grouper sailfish kingfish dolphin amberjack
More Fishing Reports: