Sailfish on Your Bucket List?
Capt. John Barker
April 15, 2015
Miami - Saltwater Fishing Report

A family from the Ohio area combined a visit to their family in Coral Gables with a two day fishing trip on the Blue Waters 2. The first day was a warm up with a few remoras and shark bites, but no sailfish. The second day, Capt. John trolled to an off Key Biscayne and then put out the kite spread and more live baits on the riggers.
First, a nice 40" dolphin was caught by the younger generation. Then the sailfish started biting. All on board caught their first glimpse after a pod of sailfish swam through the spread. One spindlebeak stopped and took an interest in the long kite bait, soon the fight was on. After a long battle on a 20 lb. spinner, the fish was photographed, tagged and released. All of a sudden the angler's wife yells out, "His bucket list is now complete!"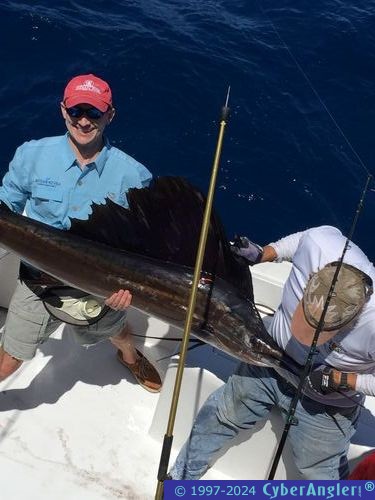 The rest of the day saw a scattering of bites from snappers on the bottom and bonitas on the surface baits.
Captain John Barker
www.fishingmiami.net
305-373-5016 (24/7)

More Fishing Reports: