South Florida Fishing
Capt. Alan Sherman
May 18, 2016
Miami - Saltwater Fishing Report

Summer has come early here in South Florida. If my memory serves me right it started around January 2016. That's right we never got a winter this year. Our waters have stayed mostly warm allowing us to take advantage of a great snook bite in Biscayne Bay. Most of the snook are now heading for the ocean inlets and the beaches where they will hang out till late August before heading back into the bay. Recently I have been fishing for sea trout, barracudas, snook, tarpon and snappers in North Bay, snook, sea trout, redfish, sharks and tripletail in Flamingo. I had a couple trips in South Bay where we jumped a big tarpon, released a bunch of barracudas, jacks, ladyfish and sea trout, one flounder and a small black grouper and have been offshore for kingfish, cero mackerel, blackfin tuna, dolphins and anything else that might bite.
Some pics from recent charters!
Today I am fishing a four boat charter out of South Bay with Ben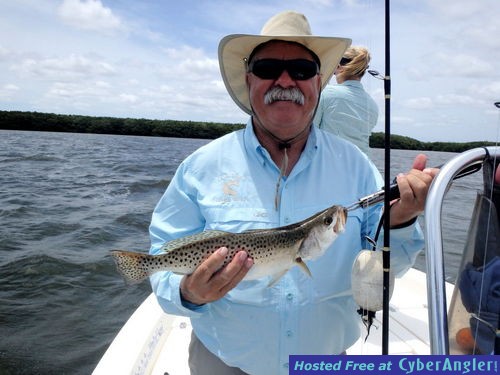 Heather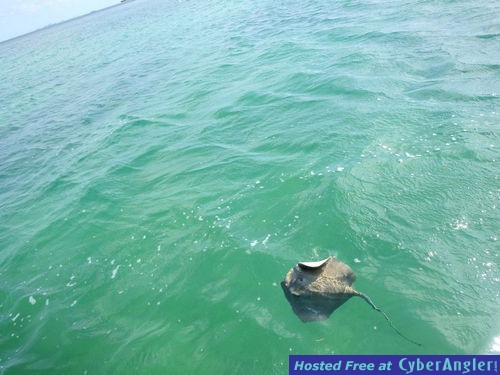 and Matt
Another group charter today out of Key Biscayne during a stormy afternoon. In the first few minutes of the charter one angler hooked a huge tarpon only to see the fish cut the leader on a piling. We did get a long run and two great jumps from the silver king.
Today with calm conditions i have Chuck and Jerry fishing offshore of Haulover Inlet. This was one of those days where we had ton's of action but couldn't get the big fish in the boat. Chuck started things off with a 15 plus pound king that threw the hook just out of gaffing range. That was followed by the release of two just under size kings and the capture of a nice cero mackerel. A small group of big blackfin tuna appeared near the boat and chuck hooked up a big blackfin on a Rapala X Rap only to loose the fish on its last run. The leader broke. On the way in we caught and released three jacks in the 6 pound range but Jerry lost a fish that was more than double that size. We had over 40 strikes that short day. You can go to my facebook page to see the battle on a short video of the tuna.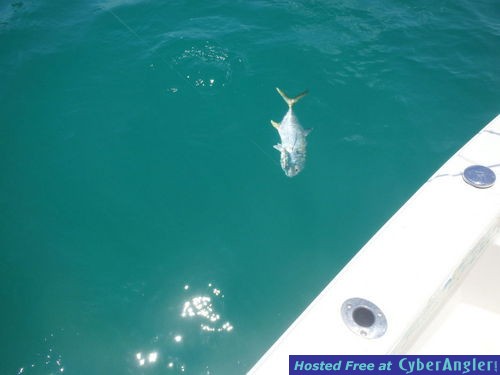 I am in Flamingo with repeat customers Zolton, Karl and Dennis. The winds are up so we fished in Whitewater Bay. After missing a few snook and tarpon in Coot Bay and then settled in to catch and lose some snook, snappers, jacks, ladyfish and big sea trout.
Joel, Steve and Dana are onboard today. The seas are flat calm so we go looking for dolphins but no dolphins. We did manage a big jack crevalle, a bermuda chub, sand eel and a blackfin tuna that ate a Rapala X Rap.
The 35 minute battle is on video on my facebook page.
Last day on the water was with my wife. We were hoping for dolphins, snappers and blackfin tuna. Dana hooked a 200 pound shark that didn't know it was hooked. It did get away. Dana also caught a nice dolphin that later became dinner. I caught and released a bunch of small snappers and jacks.

If you're interested in any of these species and looking to get out on the water for 4, 6 or 8 hours then give me a call and let's see what we can do!
So there you have it. Be flexible as to where you fish and you are sure to get in on the action.
Thanks #WoodyWax for getting my boat shiny and looking new again!



All of these catches were made possible with the use of #Daiwa spinning reels, #KeyLargo spinning rods, #Mustad hooks, #CajunThunder floats, #Rapala artificial lures, #Hookup lures, #Mirrolures, #StowMaster Nets, #SaltLife sunglasses, #SoftScience shoes, #ColumbiaSportswear, #ContinentalTrailers, #YamahaOutboards, #BobHewesBoats, #MinnKotaUlterra trolling motors, #Humminbird, #Talon, #AirTight bearings, #Woodywax and more!
So what are you waiting for? The action is happening now! Best of all I have open dates. Just give me call and let's see what we can do.
Let's set it up today!
e-mail shermana@bellsouth.net
Facebook Get Em Sportfishing Charters (LIKE IT!)
Instagram Capt Alan Sherman
Check out my report in the Miami Herald's Sports section under Fishing Updates each Thursday, the Florida Sportsman Magazines South Florida Internet Fishing Report
www.floridaspotsman.com), my monthly Action Spotter Fishing Report for the South Region in the Florida Sportsman Magazine each month.
Sponsors:
Yamaha, Bob Hewes Boats, Maverick, Minn Kota, Daiwa, General Motors & Chevrolet, Rapala, Suffix, Trigger X, Mustad, Pure Fishing, Gulp, Berkley, Precision Tackle, Cajun Thunders, Capt. Hank Brown's Hookup Lures, Hydro Glow Lights, Saltwater Assassins, Key Largo Rods, Lee Fisher Cast Nets, Smartshield, Master Repair in Stuart Florida, , Salt Life Sunglasses, Stow Master Nets, Columbia Sports Wear, Tempress Seating, Aluminum Fabricating Inc. Woody Wax,

Miami Fishing Forecast:

Miami Fishing Forecast:
Summer is here and the fishing in South Florida is about to explode. With water temperatures rising sea trout and snook will start their spawning seasons. Bigger fish and bigger numbers of fish! Spanish mackerel, bluefish and kingfish are heading north for the summer. As they pass the Miami area they always provide a months' worth of action. Big jack crevalles will be chasing baitfish schools in North Bay and big tarpon will be stealing baits intended for other fish. Offshore we will see kingfish and Spanish mackerel, bonitos, sailfish, dolphins and blackfin tuna feeding right alongside each other. In Flamingo in Everglades National Park the birds will be leaving but the scenery will always be there and there is always the unbelievable sunrise and sunset pictures. Fishing for snook, redfish, snapper, sea trout, tarpon, jacks ladyfish, sharks, tripletail, cobia and more will be as exciting light tackle fishing as one could wish for.
Target Species:

Snook, Tarpon, Redfish, Sea Trout, Dolphin, Sailfish, Cobia, Mackerel, Shark, Tripletail, Grouper, Snapper
More Fishing Reports: