Summertime Fishing in Miami
Capt. Wayne Conn
July 2, 2013
Miami - Saltwater Fishing Report

Summertime Fishing in Miami
Summertime in South Florida, what a great time to be a fisherman here! The last two weeks of May brought unusually heavy rains which kept our boats at the dock much of the time. Sea conditions as well were not pleasant as the passing storms really kicked the wind up, sometimes to 40 plus knots! No time to be on the water, that's for sure.
What's happened in the few weeks since then is all good. The boats running offshore have had banner catches of schoolie dolphin. The problem is that they can be as far as 20 miles offshore. These fish are found by trolling by weedlines in a southerly direction, or finding flocks of birds that will be over schools of dolphin. Always go south to counteract the northerly currents. Small ½ ounce feathers work great, and a rigged ballyhoo or two may get you that bigger fish. Incidentally, always keep a deep running lure out while you are fishing offshore to attract that wahoo you may pass.
Closer in to where we on the Reward Fleet fish there has been a good variety of action. Day action has seen bonito frenzies with an occasional king mackerel or mutton snapper, and the most groupers caught that I've seen in many years. Almost daily we catch gag or black groupers of legal size on standard bottom rigs consisting of a 50 to 80 lb leader 20 feet long, a 4 ounce sinker, a 5/0 to 7/0 circle hook and a ballyhoo plug or bonito strip. This was a catch from last week, AWESOME!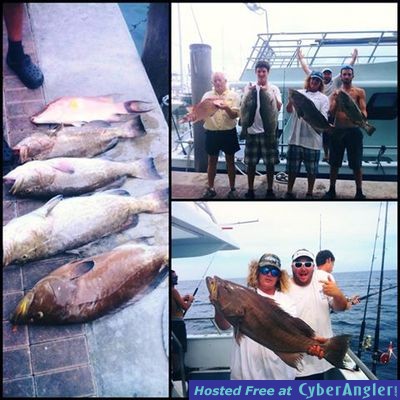 The real summer story on the Reward Fleet is the night fishing. Combine calm seas, kids off of school and loads of yellowtail and mangrove snappers flocking to spawning areas, and you've got it all! Mangroves up to one's like this 7 pounder are being caught almost every night.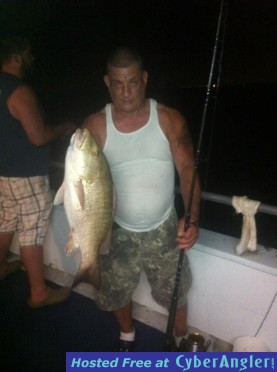 Give us a call at 305-372-9470 to join us on a trip of your choice. We also do special all day trips and private charters for groups larger than 6 passengers, which is the charter boat limit. Check us out on the web at www.fishingmiami.com, "Friend" us on Facebook at "Reward Fishing Fleet".
Hope to see you soon!
Miami Beach Marina Sailing Times:
9:00 a.m. - 1:00 p.m.
1:45 p.m. - 5:30 p.m.
8:00 p.m. - 12:30 a.m.
Captain Wayne Conn
Reward Fishing Fleet
wwwfishingmiami.com
305-372-9470

More Fishing Reports: