Warm Day and Hot Fishing in South Florida
Capt. Alan Sherman
July 15, 2016
Miami - Saltwater Fishing Report

It's getting pretty hot in South Florida but the fish don't seem to mind much. I have had some pretty decent catches recently in three different locations. Two that I take clients to and another where I only fish with friends and family! The key right now is to fish the right location the day you plan to fish!
North Bay fishing has been good but you need to get out early to take advantage of the better fishing. In North Bay and all the way up to Eastern Shores my clients have enjoyed some hot sea trout action plus large ladyfish, jacks, mangrove snappers and snook. The fish in North Bay have been favoring a live pilchard fished free lined or from under a Cajun Thunder float. The baitfish has been small but the Mustad Ultra Point #4 short shank hook has been getting the job done.
The offshore fishing has been hit or miss. The huge schools of dolphins that showed up offshore of Miami last year have not been consistent this year. However we have had trips with dolphins to 20 pounds plus bonitos', kingfish and blackfin tuna.
Flamingo in Everglades National Park has been the bright spot and most consistent area for my clients recently. Here we have been able to keep the rods bent all day long by following the tides. On recent Flamingo charters we have had great catch and release snook action, lots of tripletails, jacks, ladyfish, snappers, sea trout and big sharks. Tarpon have always been around us but we haven't wanted to spend hours trying to get a tarpon bite.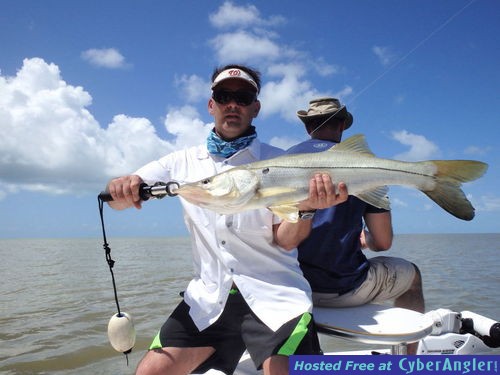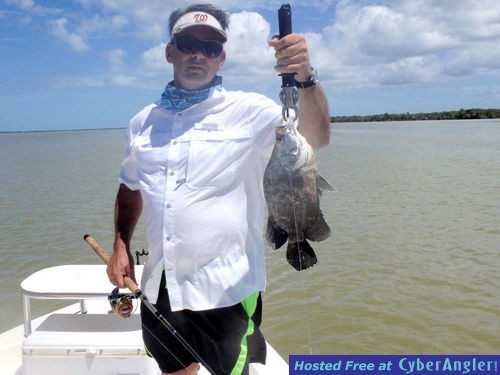 I fished with my wife Dana and close friends offshore of Islamorada last week for a half day and caught mutton snappers to 14 pounds, vermillion snappers to 4 pounds and over a half dozen red snappers that we released plus a bunch of small sharks. The mutton and vermillion snappers fed 10 people for two days. Yum!
The fishing should continue like this for most of the summer!
If you're interested in any of these species and looking to get out on the water for 4, 6 or 8 hours then give me a call and let's see what we can do!
So there you have it. Be flexible as to where you fish and you are sure to get in on the action.
Thanks #WoodyWax for getting my boat shiny and looking new again!
All of these catches were made possible with the use of #Daiwa spinning reels, #KeyLargo spinning rods, #Mustad hooks, #CajunThunder floats, #Rapala artificial lures, #Hookup lures, #Mirrolures, #StowMaster Nets, #SaltLife sunglasses, #SoftScience shoes, #ColumbiaSportswear, #ContinentalTrailers, #YamahaOutboards, #BobHewesBoats, #MinnKotaUlterra trolling motors, #Humminbird, #Talon, #AirTight bearings, #Woodywax and more!
So what are you waiting for? The action is happening now! Best of all I have open dates. Just give me call and let's see what we can do.
Let's set it up today!
www.getemsportfishing.com,
e-mail shermana@bellsouth.net
Facebook Get Em Sportfishing Charters (LIKE IT!)
Instagram Capt Alan Sherman
Check out my report in the Miami Herald's Sports section under Fishing Updates each Thursday, the Florida Sportsman Magazines South Florida Internet Fishing Report
www.floridaspotsman.com), my monthly Action Spotter Fishing Report for the South Region in the Florida Sportsman Magazine each month.
Sponsors:
Yamaha, Bob Hewes Boats, Maverick, Minn Kota, Daiwa, General Motors & Chevrolet, Rapala, Suffix, Trigger X, Mustad, Pure Fishing, Gulp, Berkley, Precision Tackle, Cajun Thunders, Capt. Hank Brown's Hookup Lures, Hydro Glow Lights, Saltwater Assassins, Key Largo Rods, Lee Fisher Cast Nets, Smartshield, Master Repair in Stuart Florida, , Salt Life Sunglasses, Stow Master Nets, Columbia Sports Wear, Tempress Seating, Aluminum Fabricating Inc. Woody Wax,
Miami Fishing Forecast:

Summer is here and the fishing in South Florida is about to explode. With water temperatures rising sea trout and snook will start their spawning seasons. Bigger fish and bigger numbers of fish! Spanish mackerel, bluefish and kingfish are heading north for the summer. As they pass the Miami area they always provide a months' worth of action. Big jack crevalles will be chasing baitfish schools in North Bay and big tarpon will be stealing baits intended for other fish. Offshore we will see kingfish and Spanish mackerel, bonitos, sailfish, dolphins and blackfin tuna feeding right alongside each other. In Flamingo in Everglades National Park the birds will be leaving but the scenery will always be there and there is always the unbelievable sunrise and sunset pictures. Fishing for snook, redfish, snapper, sea trout, tarpon, jacks ladyfish, sharks, tripletail, cobia and more will be as exciting light tackle fishing as one could wish for.

Target Species:

Snook, Tarpon, Redfish, Sea Trout, Dolphin, Sailfish, Cobia, Mackerel, Shark, Tripletail, Grouper, Snapper
More Fishing Reports: