Big fish are my specialty
Capt. Randy Kraft
September 5, 2013
Mosquito Lagoon - Saltwater Fishing Report

September is the start of the fall mullet run!!! This is one of the best times of the year for saltwater fishing the central east coast of Florida near Orlando... Mosquito Lagoon ...
It has already been very explosive with the surface strikes early morning
and sight fishing the flats as the day roles on with schools of tailing trophy size Redfish and monster Sea Trout...
A lot of fish activity in the Lagoon...redfish and black drum on the flats and jacks and ladyfish and trout and tarpon are around the creek mouths and deep drop-offs of sand bars and shorelines... For the more extreme ...
Fishing around the jetties and rocks and along the beaches of Ponce Inlet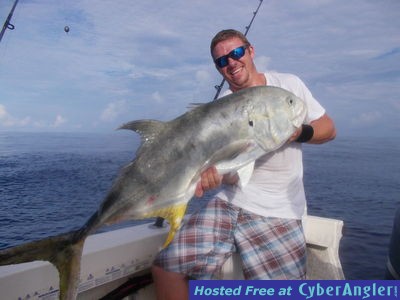 will be epic!!!
Capt. Randy Kraft..."Tug on it"!!!!
Target Species:

Redfish, Many others saltwater fish
More Fishing Reports: