Tailing Reds and Big Trout
Capt. Joe Porcelli
September 13, 2012
Mosquito Lagoon - Saltwater Fishing Report


Storm surge, lots of rain and a full moon tide have all helped the issue of the red tide. We fished in clean water all day yesterday on the outgoing tide. We had tailing and cursing reds in front of the boat everywhere we fished. Of course I am not going to stop the boat where there are no fish, if I can help it, LOL.
Travis Bidwell and friend Scott had some beautiful sights in front of them on the shallow clean mosquito lagoon flats yesterday. Some of our catches consisted of dropping bait five feet in front of the boat only to watch the red take three swipes at it before he finally found the hook.
Redfish fishing in the Mosquito Lagoon has been really good but you do have to make a good cast to catch the reds.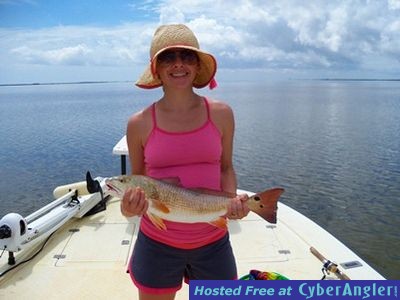 The trout bite has improved as well now that the water is cleaner. Pigfish are still here but they are getting big, but that means big trout as well. They also make good bait for other species like snook.
Most of the time for trout I bounce Gulp jigs on the bottom or use clicker bead rigs with your Gulp jig combo. Many species will eat a jig bounced along the bottom. In the mornings you can toss your top water plugs as the finger mullet are migrating down the coast. Match the hatch, the only issue would be floating grass that would hang your plug after just a few twitches. The temperature in Central FL has been nice in the mornings, in the low 70s and we are off the water before it gets too hot. So if you want to catch some nice fish give me a call and I will put you on them. Remember, think like a fish to catch fish. Or just call me. 386 314 5656

Target Species:

Redfish, Trout, Snook
More Fishing Reports: