Big Catches in Naples Backwaters as Waters Warm Up!
Capt. Todd Geroy
February 22, 2014
Naples - Saltwater Fishing Report

We have been on a warming trend for the last couple of weeks here in SW Florida and as water temperatures warm up, some of my anglers have had some impressive catches!
I have to be honest in saying that there have been some trips where it just isn't happening as fish seem to be on the move and aren't always showing up in spots where we found them yesterday. We have had some great days with tarpon, permit, grouper, redfish, big jack crevalle and good numbers of snook showing up.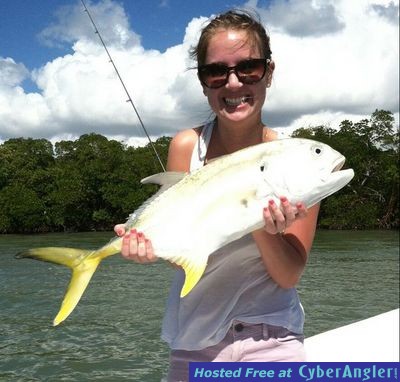 On one morning trip last week, Bill Palmer and I set out on a negative low tide to work jigs in back country channels for a little mixed bag action. We located a school of small permit and caught over 40 of these fighters along with pompano in one spot! 1/4 ounce yellow Don's pot gut jigs with a piece of shrimp got all the bites. I have never caught that many permit in one spot in my long career!
Bill with one of the permit...
We have been finding some nice redfish under the flooded mangroves during the higher tide stages. Casting live sardines into the cover was a bit challenging with very high tides following the full moon, but we did manage some slot and a few over slot reds with a little hard work.
Gag and goliath grouper have been regular opponents while fishing with bait in the cover. Some of the gags have been legal size although the season is closed right now. They really put up a fight on the light tackle!
Tarpon are in the area and although I did not spend any time targeting the large fish, we did hook into some juveniles on jigs and live bait. Van with his first tarpon ever...
Snook fishing really picked up the last couple of days with lots of small fish scattered all over the back country. We caught them along deeper mangrove edges and creeks at low tide and on points and flooded oyster bars at high tide.
Most notable was yesterday afternoon, 2/21. I fished with long time client Bruce Fredrickson and grandson, Tyler (9) and granddaughter, Katie. The group caught and released a number of snook including a 10 pound fish by Tyler. Katie hooked and boated a huge 22 lb. 40 inch snook on 10 lb. test line! What a thrill for a young angler and for this old fishing guide! It made my month!
Here is Katie with her prize catch...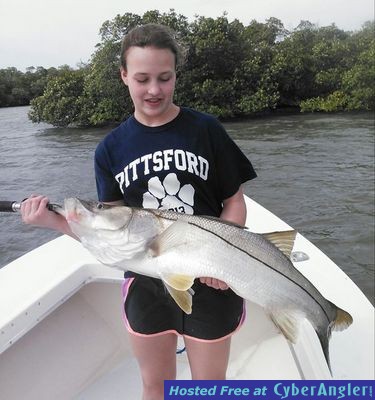 -Capt. Todd Geroy
Naples Fishing Forecast:

More snook and redfish to come in the near future as water temperatures should become more consistent. Tarpon action should be reliable for those who want to commit the time. Spring is here!
Target Species:

tarpon, snook, redfish, permit, pompano
More Fishing Reports: