Warm Winter Fishing 2015 Wrap Up
Capt. Todd Geroy
January 1, 2016
Naples - Saltwater Fishing Report

Another year has flown by and we ended 2015 with amazing spring like weather and some fantastic fishing. Water temperatures have been in the upper 70's for weeks which is very unusual this time of year. Conditions have made for a different fishing pattern than we are used to this time of year. Guides and anglers have adjusted tactics to produce some great catches.
With the waters still warm, there has continued to be an abundance of bait fish in the area. I have headed out before sunrise on most mornings to load up on these productive baits. Snook, trout, redfish, monster jack crevalle have all been crushing the offerings.
Snook fishing has been uncommonly good for late December. Rob Harrelson and his friend Dr. Crane got into them a week ago catching and releasing numerous snook to 29 inches.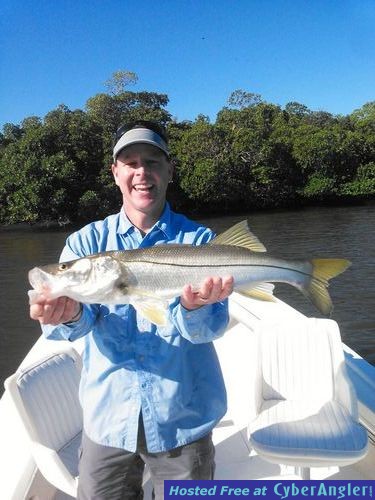 Sea Trout have been a reliable target on many trips. We have been finding them schooled up on grassy flats on the rising tide as well as some of the run off channels on the falling tide. Free lining live baits as well as jigs have been producing as many as 50 slot trout per trip.
Last week I fished a morning with Ed Eaton, son Steve and grandson Decklan. The three literally caught countless nice trout on every cast for over an hour before we left the fish biting to look for other species. The trout ranged from 16 to 21 inches. All were released.
Decklan with a nice 20" trout...
Redfish have been a little challenging to find recently. However, we have managed to catch some very nice reds by working tight to overhanging cover along mangrove shorelines and points on the incoming tides. All of the redfish we have caught have been 24 to 30 inches. Patton Smith brought son Patton Jr. and cousin Clay out for a morning half day last week. The boys boated a bunch of sea trout and other species including a 29 inch redfish caught by Patton Jr.
Here is Patton and his cousin Clay with a nice redfish
Other action has included pompano, gag grouper, goliath grouper, mangrove snapper and some solid jack crevalle ranging up to 15 lbs.
A nice 28 inch backcountry gag grouper released last week...
I'm looking forward to the new year and plenty of memorable fishing for my clients! We are off to a good start. Happy New Year!
Naples Fishing Forecast:

Cooler weather is on the way for the next week. Although it may alter the pattern a little bit, only time will tell if temperatures will drop much and linger for any amount of time. I do not expect much change in the fishing action in the near future.
Target Species:

Sea trout, snook, redfish
More Fishing Reports: