April 2012 Mosquito Lagoon Backcountry
Capt. Michael Savedow
April 1, 2012
New Smyrna Beach - Saltwater Fishing Report

March was a fun fishing month with transition patterns here on Mosquito Lagoon Florida, early spring with the warm winter we had, some Redfish remain in their cool water schools, while others have left school, going out on their own in small groups, pairs, and singles. With mullet schools beginning to form on the flats, starting our summer type pattern. Redfish and Seatrout mix in with the grazing mullet as the vegetarian baitfish dig in the grass for algae, they are displacing shrimp, baby crabs, and minnows which the game fish find easy pickings. We are fishing live finger mullet, cut mullet, and gulp shrimp to name a few good baits for the Reds and Trout. On good visibility condition days we have had some great sight fishing the last few weeks, with cruising and sometimes tailing Redfish. A few recent trips had double and triple header Redfish hookups as seen in a couple photos, as well as some great catches by the ladies and youngsters.
Edgewater Backcountry mixed bag fishing has been great this spring with Seatrout, Jack Crevalle, and Ladyfish being the main actors in this fun easy type of fishing. Throw in a Flounder, Black Drum, Whiting, Redfish, Bluefish, or Sheepshead and you have the usual catch for my mixed fishing trips with about 10 species of saltwater fish caught on most trips, perfect for family trips and fishermen looking for a sure thing fishing trip with big quantities of fun fish caught. This is light spinning tackle fishing with live shrimp baits.
CALM WATER INSHORE SALTWATER FISHING – NO SEA SICKNESS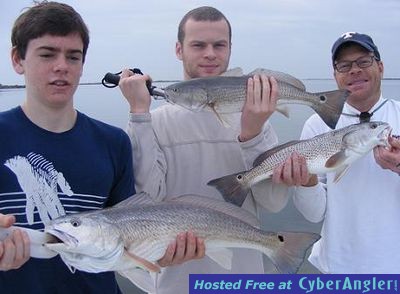 As we are out catching fun saltwater fish and enjoying the great outdoors here on beautiful Mosquito Lagoon we will be seeing lots of wildlife up close and personal near the boat with Dolphins and many different bird species on every trip. We are starting to see more Manatees again after their normal winter absence from our area.
MY BOAT COMFORTABLY ACCOMMODATES 1 TO 4 ANGLERS
Located close to DAYTONA BEACH, NEW SMYRNA BEACH, ORLANDO, KISSIMMEE, DISNEY WORLD, COCOA BEACH, EAST CENTRAL FLORIDA. Saltwater Inshore Fishing. Feel free to contact me at any time with questions you may have about my fishing charters. Mosquito Lagoon Fishing Guide. Flats Sight Fishing, Also Eco-Tours, Sightseeing, Bird Watching, Photography Trips.
CALL ME ANYTIME AT 386-689-3781
CHILDREN ALWAYS WELCOME – FAIR PRICES
Capt. Michael Savedow
Edgewater River Guide, Inc.
386-689-3781
email> EdgewaterRiverGuide@cfl.rr.com
Website> http://EdgewaterRiverGuide.com

More Fishing Reports: