Mosquito Lagoon New Smyrna Beach Backwaters Daytona Area
Capt. Michael Savedow
August 8, 2017
New Smyrna Beach - Saltwater Fishing Report

Catching has been steady all this summer of 2017, water quality remains good here in Mosquito Lagoon and Indian River at the New Smyrna Beach backcountry. Baitfish school numbers are as good as we have seen in years with large mullet shoals, pilchard and menhaden numbers. Backwater fishing with loads of variety including Seatrout, Snook, Redfish, Black Drum, Mangrove Snapper, Whiting, Jack Crevalle, Ladyfish to name a few, and always other some surprise catches like Tarpon, Sheepshead, and Mutton Snapper. On the Mosquito Lagoon flats we have been sight fishing skinny water Redfish, finding small schools and single fish in the shallow grass, off the edges live bait Trout fishing also good this summer with a couple Reds, Jacks, and quality Snapper coming up out of the drop offs also. Long time central Florida clients George and Joe came on their annual July trip on the flats, George caught the largest Red of the morning, sight fished out of a school and 31" long ………
………..Joe with another one of the mornings skinny water Redfish……………..
Backcountry variety catching trips have been fun all summer also, long time Flagler Florida clients out again recently landing all the different species including Greyson with his largest to date Seatrout…….
……..and mom Heather with a good Black Drum this morning eating one of our live shrimp baits………………
John and son Mikie from Illinois had a fun first trip with me and Seatrout were cooperative, John with an over size Speckled Trout………………….
………..Mikie with one of his good Trout……………..
One of our surprise backcountry landings, Tarpon usually give you a jump or 2 before their escape, but this 38" silver king stayed hooked for a quick photo and release caught by Danny…………………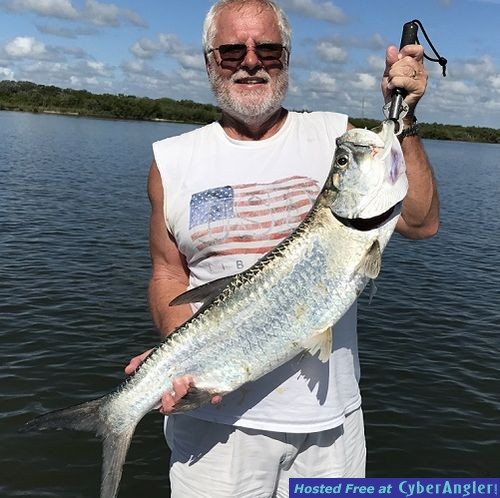 Long time Orlando clients out on another back water mixed bag trip with dad Craig and a good Seatrout on a live shrimp………………….
Kids of all ages have fun on my trips like young Matthew with a jumping Ladyfish……………...
FUN FRIENDLY LIGHT TACKLE FISHING ADVENTURES
Indian River and Mosquito Lagoon Backcountry and Flats Fishing
CHILDREN ALWAYS WELCOME – FAIR PRICES
Near Daytona Beach, New Smyrna Beach, and Orlando, East Central Florida
CALL OR TEXT ME ANYTIME 386-689-3781
See my website http://EdgewaterRiverGuide.com
Capt. Michael Savedow
Edgewater River Guide, Inc. Since 2003
386-689-3781
http://EdgewaterRiverGuide.com
More Fishing Reports: