2016 Summer Mosquito Lagoon Fishing Report
Capt. Drew Cavanaugh
August 5, 2016
New Smyrna Beach - Saltwater Fishing Report

August 4th, 2016 Central Florida Nearshore & Flats Fishing Report
ATTENTION: The Algae Bloom that has been seen on the national and local news is in FAR SOUTHERN FLORIDA, it is not near this area. It is over a 105 miles away from the Mosquito Lagoon and the north Indian River here in New Smyrna Beach and Cocoa Beach. The fishing here has not been effected by that bloom and is not even the same body of water! Call me or captdrew@floridainshorefishingcharters.com me for details on this at 352-223-7897)
With summer in full swing and the hot weather outside brings some extremely awesome opportunities for flats, backcountry and nearshore Atlantic beach coastal fishing here in east central Florida. The main targeted inshore species for the months of July, August and September in east central Florida, along with some of October, are tarpon, mangrove snapper, jacks, snook, drum and redfish on the flats. Along with the redfish on the inshore flats waters we will have shots at backcountry tarpon, black drum, spotted seatrout, snook, lady fish, snapper and jacks.
The nearshore or coastal beach fishing trips will bring some great bigger tarpon action! I mean great! These tarpon are upwards of a 100 pounds at times. Plus little tuna or bonita, sharks, kingfish, triple tail, cobia and big jacks plus so much more. Even though it is very very hot outside the fishing is outstanding here on the flats of the Mosquito Lagoon, Indian River and the nearshore waters within 10 miles out of Port Canaveral, Sebastian Inlet and Ponce Inlet.
Summer time fishing for saltwater species in east central Florida is at its prime for this time of year. With that said, a side note is that the fishing here in Florida is year round. Meaning it never stops. That is the nice thing about living on a peninsula surrounded by saltwater with numerous lakes and rivers everywhere. You have so much to choose from and so many places to go for so many different species. So when someone asks me when is the best time of year to go, I say; "What type of weather do you like? Hot or cold or mild?". So you can never go wrong with coming to central Florida for a fishing trip. Inshore, nearshore, backcountry, flats or even freshwater at times.
With the days being very hot outside and records being broke in that area you have a few choices for fishing here. If you have the vessel or boat that can handle it and weather, seas permit, you can go along the beaches out of either Ponce Inlet in New Smyrna Beach, Port Canaveral in Cocoa Beach or Sebastian Inlet. The beach fishing trips we have been doing are getting some great tarpon action on some very nice calm sea days. Several sharks are mixed in and big, and I mean big jacks and little tuna or bonita. Anyone who has ever fished for the jack knows that for them being a non game fish their fight should be in that classification.
A lot of other side fish are caught as well on these types of fishing charters. Ranging from triple tail, cobia, snapper, grouper, redfish, snook and even a barracuda here and there. Your best bet here on the east side of Florida in Atlantic waters are to start early and finish early. Due to that the sea breeze will kick in at midday causing the ocean to get rougher as the day goes by mainly. Plus pretty much from the months of June through September we get the well known afternoon thunderstorms that build causing some dangerous storm conditions in the late afternoon. So as long as you start early then finish by noon or so you are just fine. This allows you to have great morning weather, that early bite, great sunrise and still be done in time to enjoy the rest of your day. Now the inshore flats can be fished morning or afternoon due to the quick ride there and back to the dock.
The tarpon along the beaches require you to have a 6000 series or larger reel, plus the compatible rod. I use 40 pound braid most of the time with either a 40, 60 or 100 pound fluorocarbon leader around two feet in length. When we find the tarpon we usually see them rolling among bait pods or just cruising the beach mixed in with the baits. Through either using the deep diver DOA Bait Buster, Terror Eyz or some sort of mullet or bait fish looking lure. You can toss a live crab or mullet at them too if you wish, but the artificial will work. A larger 10 to 12 weight fly rod will work too if you can get close enough to them for the cast. Of course be prepared for shark mixed in here on these trips and the toothy barracuda. If you choose to target them think safety first and then also have steel leader with you or some sort of wire set. Trolling a lure at slow speeds will also get you a kingfish too! Gloves on board are needed too for both/all species, shark, kings and tarpon when landing them.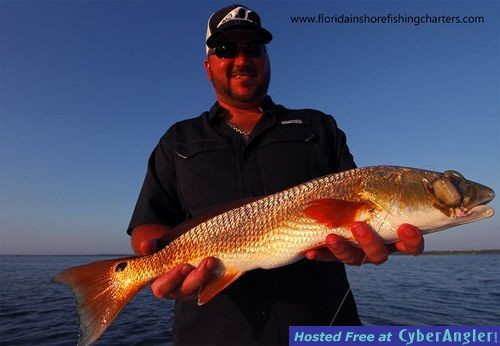 Along with tarpon on the coast, either before or after you head out of the inlets, you can fish the bridges and the inlet itself plus hit some oyster bars and sand drop offs for a mixed bag of fish. This even can be an option if you get there and the seas are too rough to venture out safely. Do remember safety is a major key in venturing offshore at any distance. In the inlet area you have shots at big bull redfish, jacks, lady fish, trout, black drum, snapper, and tarpon too. Using smaller 3/0 circle hooks and a small to medium heavy weight try hitting pilings and structure for sheepshead, drum and mangrove snapper. Check out this https://youtu.be/g5VzZud2UZ0 I made here just a few days ago while I was scouting for a charter. Great tarpon action on light tackle here in the Daytona Beach area.
Now if you choose to fish the inshore flats or backcountry waters you have some really good fishing chances here. Whether you want to try sight fishing them, fly fishing or using bait. The redfish bite has been outstanding. Some of the best sight fishing I have seen in a very long time is going on right now on the Mosquito Lagoon and north Indian River. Whether you are fly or spin light tackle. Tailing redfish are what we see throughout the trip.
The fish I have been getting are ranging from big bull redfish up to and over 50 pounds with shots at numerous smaller medium size fish in the 5 to15 pound range. Watching and chasing these fish is a heart racing adventure that will leave you with memories for a lifetime. Once you try it, you are hooked. Using either a DOA Shrimp, DOA Shallow Running Bait Buster, live mullet or live pinfish is really all you need. A crab patterned fly or shrimp pattern on a #4 hook with an 8 weight fly rod is your choice of weapon as well for fly fishing. A smaller 2500 series reel will work fine for inshore waters here, unless you are getting dock snook then go with the 4000 series. Keeping either a dozen live shrimp on board or at least some frozen ones will come in handy for the black drum you come across on the flats. Just remember if you are casting to a tailer throw past it with a soft presentation, not a big splash. Also please be aware of your surroundings. Meaning just because you see a boat sitting at a certain point does not mean they are staying there. Here on the flats boats cover massive areas while flats fishing.
Spotted seatrout have been off the hook. Some really good catches have been recorded throughout both lagoon systems, plus the northern area in Edgewater and Port Orange. Fishing at first light before there is enough light to use at your advantage for sight fishing try throwing a top water plug like the DOA Bait Buster or blind casting a weedless soft plastic setup. Then watching the grass flats as you are poling around the morning time in search of redfish tailing or cruising you will find massive gator trout lurking around mixed in with the tails.
With kids you can hit drop offs and ledges in deeper waters using either a jig head with a DOA CAL on it or a popping cork. The popping cork can be topped off with a soft plastic or a live shrimp so you choose too.
Please remember that every fish you catch here on the Mosquito Lagoon and Indian River inside the Canaveral National Park and the Merritt Island National Wildlife Refuge should be released. It is illegal to clean fish on their land too. So keep this in mind when handling them and getting them to the boat. Watch stressing fish out in the warm waters of summer. Also keep in mind when you catch the bigger redfish to take what ever time you need to for their revival. Even if it takes an hour, just don't call it after a few minutes please. They are the future of our fish here.
Captain Drew
Target Species:

redfish, trout, tarpon, snook, black drum
More Fishing Reports: