Fall Fishing Arriving MosquitoLagoon NewSmyrna Daytona Orlando
Capt. Michael Savedow
September 15, 2013
Orlando - Saltwater Fishing Report

Autumn is getting close as mid September 2013 is here, water temps down a little bit, and starting to clear on the grass flats of Mosquito Lagoon. The mullet run is beginning with schools of finger mullet swimming south down the Indian River channel on their seasonal journey towards the south Florida wintering grounds of all the subtropical coastal fish species. We will be taking advantage of the small mullet by "matching the hatch" using them for Redfish and Seatrout baits during the fall months. Sight fishing will again be part of our routine techniques while flats fishing, as the water continues to clear with lower temperatures. Some of my fun late summer trips include the 7 Redfish morning with Ross, Kyle, and "top rod" Matthew seen here with his 24" Seatrout
And showing off his catch of the largest Redfish on the trip at 31.5".
Brad and son Colby from north Florida went with me first week of September catching 8 Redfish including the 30" spot tail caught by 11 year old Colby being his largest lifetime fish so far.
A family reunion trip had relatives meeting up from Virginia, Orlando, and Stuart, Florida going on a fun flats trip with me. Sisters Amy and Katie each had the bragging rights by catching the biggest Reds of the trip at 28" and 29".
Very longtime regular client Don from North Carolina did a solo trip last week catching 5 Redfish up to this 29"er and a 22" Seatrout.
Edgewater Backcountry mixed bag fishing trips have also been lots of fun and will continue to be through the fall months, a more easy going fishing style, catching high numbers of different saltwater species on light tackle. Most mixed trips catching 8 to 10 or more species including Seatrout, Mangrove Snapper, Jack Crevalle, Ladyfish, and sometimes even a nice Redfish or Black Drum. These trips are great for kids and family groups wanting some easy fast catching action and great wildlife viewing seeing Dolphins and Manatees up close and personal on most every trip out.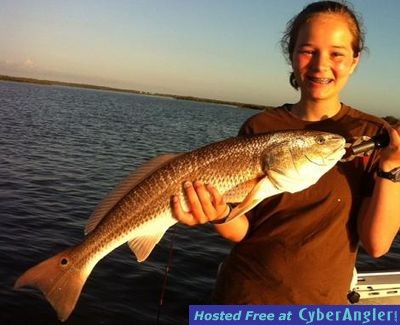 MY BOAT COMFORTABLY ACCOMMODATES 1 TO 4 ANGLERS
Located close to DAYTONA BEACH, NEW SMYRNA BEACH, ORLANDO, KISSIMMEE, DISNEY WORLD, SPACE COAST, COCOA BEACH, EAST CENTRAL FLORIDA. Saltwater Inshore Backcountry Fishing Charters. Feel free to contact me at any time with questions you may have about my fishing charters. Mosquito Lagoon Fishing Guide. Flats Sight Fishing, Inland Fishing, also Eco-Tours, Sightseeing, Bird Watching, Photography Trips.
CALM WATER INSHORE SALTWATER FISHING – NO SEA SICKNESS
CALL ME ANYTIME AT 386-689-3781
CHILDREN ALWAYS WELCOME – FAIR PRICES
Capt. Michael Savedow
Edgewater River Guide, Inc.
386-689-3781
email> EdgewaterRiverGuide@cfl.rr.com
Website> http://EdgewaterRiverGuide.com

More Fishing Reports: