Lake Jackson and Lake Kissimmee
Capt. Tim Fey
February 21, 2011
Orlando - Freshwater Fishing Report

Paul hit the sunshine state for the 4th year now to fish another three days in search of that trophy bass. Paul likes doing it the old fashioned way, all artificial and on day one we hit Lake Jackson. Once again the fog rolled in on us but atleast this time there was no delay in the start to our venture of catching that trophy bass. Hitting an area on the lake that has not only been holding some great numbers of bass, but some very good size as well, it was a bass fishing and catching day out here.


We had a great day on the water, and had several casts were we spooked up some very big bass, but could not get these gals to connect with us. Once again the hot bait was a senko type bait worked tight to cover and around the scattered grass patches. Picture perfect weather with just the right amount of cloud cover made for a very good day out here.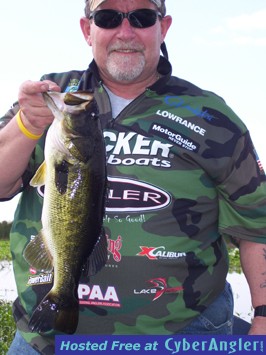 Day two we hit Lake Kissimmee and it was the complete opposite as far as the cloud cover went. Blue Bird skies and a much tougher bite. Everything was pin point casting with us boat a few bass here and there. Today we had mixed it up some with live and artificial baits working every water column you could. Two foot of water to eight foot of water, with no clouds and no breeze we had to work it hard.

Target Species:

Largemouth bass
More Fishing Reports: