Bait and the Kings they bring!
Capt. Troy Branham
May 2, 2017
Panama City - Saltwater Fishing Report

In Panama City, When the bait arrives in late April the Kingfish are sure to follow. That being said, target the bait that they are after and you will be in for some serious fun. I like to free line several baits off the stern while drifting in an area I know to hold Kings.
They will usually take your offering and scream straight away from the boat, but every once in a while you will get a treat; they will hammer your bait and skyrocket out of the water when they come up to catch your bait.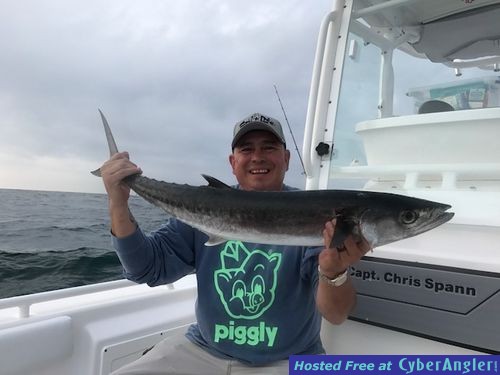 This results in some very exciting action that you just got to see to believe. It's like top water bass Fishing on lilly pads, only better.
Panama City Fishing Forecast:

Unfortunately, the rough winds and seas have kept us off the water for the past four days. I expect this weather to continue through Sunday, at the earliest. Definitely looking forward to getting back out there and chasing those smoker Kings starting Monday, bright and early! Good luck and tight lines, Captain Troy.

Target Species:

King Mackerel
More Fishing Reports: