Panama City Grouper Time
Capt. Mike Falzone
September 1, 2009
Panama City - Saltwater Fishing Report

Now that the Red Snapper season has ended it's time to turn our attention to grouper fishing.


We fished on Wednesday and had a nice mess of gag grouper with most caught in less than 90ft of water while getting a lot of bites and landing a bunch of fish. On Sunday it seemed everything changed, the gags didn't cooperate but the Red grouper did.


This fished was lost by Craig's wife then took the next bait he dropped.It's sure nice when they're in a biting mood.
We were able to pull a few off most of the spots before the big Snapper moved in, with the Red snapper season closed and with a lot of the fish being 10 pounds plus we'd move on instead of taking the chance a killing a bunch of the big snapper.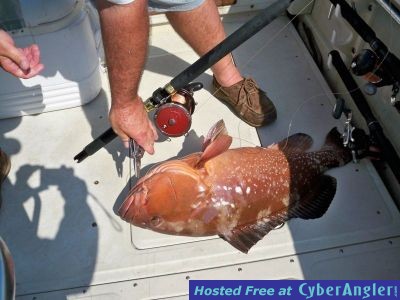 With the grouper biting and the size and amount of the red snapper we have had to release these trips are a workout. Throw in a couple of 300+ lb Nurse sharks some nice size triggerfish and you'll for sure know you fished the next morning.
Panama City Fishing Forecast:

As fall approaches and the waters cool the grouper bite should continue to just get better.
More Fishing Reports: