Red Snapper fishing off Panama City
Capt. Mike Falzone
September 8, 2008
Panama City - Saltwater Fishing Report

The Panhandle dodged several tropical storms recently which left us fishing off-colored but surprising calm waters off Panama City. Fortunately for us, the fish do not seem to mind the dark waters and are biting well.


The Snapper bite in State waters has been consistent and the box filled with legal limits almost every trip.


Rhonda Tedder shows off a typical Snapper for our State water trips.
It is difficult to keep a bait on the bottom as the fish are ready to bite as soon as the bait is presented to them. The artificial reefs and hard bottom areas in Federal and State waters have produced numerous species including Gag Grouper, Red Snapper (these are released in Federal waters due to the closed season), Vermillion Snapper and Trigger Fish.


Bobby Tedder of Albany, Georgia wishes this 20 pound Red Snapper had been landed in State waters. The Snapper catch has been excellent, and while the artificial reefs are loaded with Grouper, they have typically been undersized and released for another day's trip. It is not uncommon to release double digit numbers of small Gags.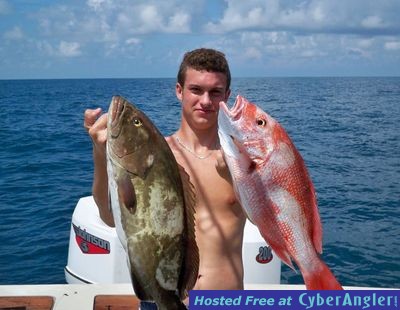 Christian Aufdencamp of Panama City displays a Gag Grouper and Red Snapper caught off one of Panama City's numerous artificial reefs.
The early to mid-morning hours offer the best fishing, while the bite tends to taper off in the afternoon.
The State Snapper season closes on October 31st and with the active tropical weather, we are trying to get as much fishing in as possible while the weather allows and the season is still open. With the approach of fall and cooling waters, it is expected that the bites will only get better.

Target Species:

Snapper and Grouper
More Fishing Reports: