WOW! What a summer in Panama City Florida
Capt. James Pic
July 11, 2014
Panama City - Saltwater Fishing Report

First I want to apologize for taking so long for a report. Technical issues...it's a wonder AT&T is still in business.
Fishing has been unbelievably great this summer. From the big, big snapper caught opening week of season, the kings all over the place and the specs and reds scattered in between.
Check out my Facebook Page; JP2Fish.com for up to date reports and videos. Please like it while you are there. Go see why I'm the best guide in the Panhandle.
As for a report...kings are everywhere. In the bay, off the beach and offshore. We even got a good one on the fly this morning.
Unfortunately, snapper closes in a few days but that won't stop us from chasing gag grouper thru November.
The Spanish bite is hot this year with fish in all of my usual places. You won't worry about fishing around a lot of other people because I have a bunch of "chum" spots that I'm the only one that fishes.
On the days we are in the bay we have been doing well all summer with trout and redfish. A few flounder have been showing up.
When we hit the gulf there are amberjack, land and black snapper, scamp, pogies, grouper and other species. I had a personal best, 62lb. cobia swim up to the boat while I was fishing with Four Pound Ray last week. A client had another #40 on a few days later but it was lost.
Thank you to all of you that fished with me this summer, so far, with an extra thanks to those who come year after year. You are the heart of my business and you are why I work so hard.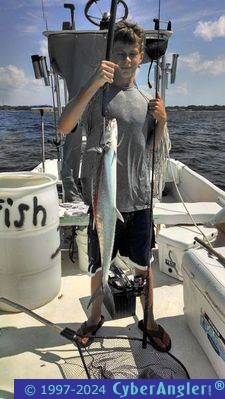 Panama City Fishing Forecast:

Get down here and get some fish.
Target Species:

everything is biting
More Fishing Reports: