Extreme Temps along the coast makes anglers change strategy
Capt. John Rivers
July 23, 2016
Pensacola - Saltwater Fishing Report

Extreme Temps along the coast makes anglers change strategy
Extreme temps over the past couple of weeks have put the fish in a sluggish mood only feeding very early, late in the afternoon, and at night. With a short window of fishing opportunity, you have to make the most of the bites you get.

Trout, redfish and flounder are biting, but you have to pick the right time along with the right tides to be successful. Live bait like small pinfish or finger-mullet and cut baits are working best, but at daylight make sure you have a top-water tied on as they will crush it, and nothing is better than a big trout on top-water.
Spanish Mackerel are in the bay thick and also abundant near the Navy base.
Not only are the Spanish thick, but we're also catching a few big Jack Crevalle too, which is nice, but make sure you bring your Gatorade, you're gonna need it with these guys.
This heat wave should end by next week hopefully, and we'll be back to normal summer temps and with a bit of luck we'll have some storms to cool the water temps down to get the fish more active.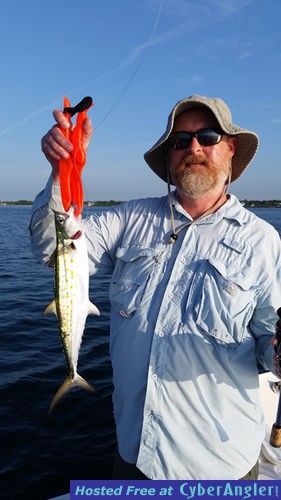 Remember during the summer months the oxygen levels can be lower and the fish can die more easily, so take extra care of the fish if you're going to catch and release.
Some Tarpon are still being caught along the beaches; just maneuver in front of the schools and toss out a live bait in waiting or have a large 7" soft-plastic swim bait rigged on a 7'6" heavy action rod with a fast tip and hang on.
Night fishing has been very popular over the past two weeks for big trout. During the daytime, the best depths for trout are 4-6 ft; and redfish are pretty much the same, although you can catch them in really shallow water, but with the water temps high, they like the cooler pockets of water. I've even caught them as deep as 8-10 ft holes where the temperatures are much cooler and the fish feel more comfortable.


It won't be long before we'll be in our fall patterns-- only about 7 more weeks. But until then, the fish will be a little more sluggish and you'll have to fish very early or the last few hours of daylight to get the bite or even at night avoiding the blistering sun altogether.
Thanks for stopping by.
Tight lines,
John
www.megabiteinshore.com
850-341-9816
More Fishing Reports: