Pensacola Beach, Navarre, Destin Florida fishing report.
Capt. Eddie Woodall
July 18, 2009
Pensacola - Saltwater Fishing Report

It's the middle of July and I'm amazed at the quality of Red Snapper that I'm still catching. The secret is to have enough places to fish without killing all the fish on one spot. When I go to a spot and catch a nice stringer of fish, I'll go back there one more time in the next few days and then leave it alone for a week to ten days. More fish will move in as you take fish out as long as it's got good cover and bait there. I'm talking quality fish not just keeper fish, I put one over twenty pounds in the boat last Wednesday. I also got a treat on our way back in on our same trip last Wednesday, about four miles from Pensacola Pass I saw something about three hundred feet in front of us sticking about a foot or so out of the water, the sun light was brilliantly glistening, off the object and got my attention in a hurry, as we approached it coming off plane, I knew what it was. I announced to the clients onboard that it was a Sailfish. As we drifted within thirty feet of this magnificent speedster of the sea, she dropped down about ten feet and swam under the boat rolling on her side giving us a profile look at one of the absolutely most beautiful fish in the ocean. I've also been catching a lot of Amberjack's, a good number of them have been over the 30 inch size limit and a whole bunch of smaller ones. These fish are a blast on light tackle and can give you a run for your money if they get over the size limit much. The King and Spanish mackerel are plentiful also and if you get in the right place at the right time you will catch yourself a smoker if, you're not careful.

,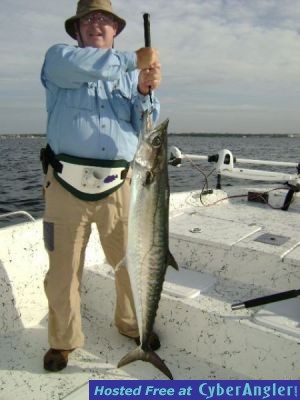 ,
Inshore – the Speckled Trout bite is as about as slow as it gets right now, the weather is just too HOT right now for these fish. Specks are mostly nocturnal anyway, so if you want a good stringer of Specks go fishing at night. Red Fish are a different story. If you want to catch Reds I'll find them for you, it might be a ten fish day or a two fish day, but we can catch Reds this time of the year most of the time. Sharks are at the top of the list of targeted species this time of the year, also. We've been having big fun fishing for the 40 to 80 pound sharks in the bays over the last few weeks. Inshore would also bring you a good catch of Spanish mackerel if you look a little bit, watch for birds working bait in the bays and you'll find the Spanish.

,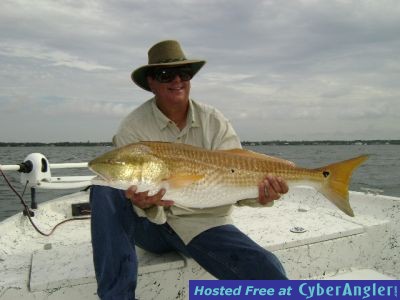 The fishing for the next month will be about the same as what we have here now except for the Tarpon; these fish are making a good show now and it won't be long before I have a Silver King in the air.

You just never know when that next big fish is going to show up!

I know one thing for sure - You ain't going to catch'em sittin' on the couch!!
So get out there, take a kid fishing and have a Blessed Day!
Professional Fishing Guide
Capt. Eddie Woodall
Full Net Fishing Charters L.L.C.
850-936-8203
www.fullnetcharters.com
A special thanks to my sponsors:
Blazer Bay Boats, Yamaha Outboards, SPRO Fishing Tackle, Gamakatsu Hooks, Big Bite Baits Inc. Lee Fisher Bait Buster Cast Nets, Pure Fishing Select Anglers Program, Berkley Gulp, ABU Garcia, Shakespeare Fishing, All-Star Rods, Penn Reels, X-Tools, Seven Strand, Johnson, Fenwick, Stren, Berkley, Spider and Pflueger.
More Fishing Reports: