Plethera of reds on the Panhandle
Capt. Brant Peacher
November 12, 2009
Pensacola - Saltwater Fishing Report

The pinnacle of shallow water angling with Emerald Coast Fishing Excursions and Capt Brant Peacher for only $250.00!! November is filling up...Book now!

My favorite time of year is finally here! Cooler temperatures mean lot's of redfish. Whether you are fishing Pensacola pass, Destin pass, or Panama City pass, expect to see lot's of bull red action. If you are searching for slot fish then you can't go wrong with hitting any of the upper bay systems. Right now we are seeing schools of hundreds of fish in Panama City's west bay. These fish can be extremely skittish so light line and small baits are key. Also, the smaller the boat the better. You don't want to make your presence known since these fish are getting lot's of fishing pressure. The breakfast point area, muddy bayou bank, and the mouth of all the canals on the north bank are producing good fish. White jerk shad or a 1/8oz gold spoon is the bait of choice. I would suggest going down to 10lb test flourocarbon on some of these fish. They can be very stingy!!


Choctawhatchee bay has just recently became one of my favorite bay systems on the panhandle. Unlike the Panama City fish....the Choctawhatchee bay redfish eat! We were sightfishing singles and doubles all morning catching 1 fish after another. A small bucktail jig or a pearl white jerk shad was the prefered bait. We saw 90% of our fish on the north bank on sandy bottoms. Check out the first pic....it was from today's trip. There is nothing I love more than sightfishing in crystal clear water!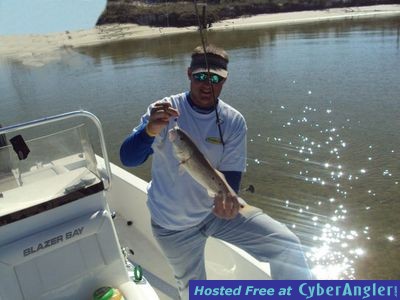 The upper bays in Pensacola are producing quality fish as well. I had a trip on Monday and we put 11 reds and several nice trout in the boat. Most of them were caught on a 1/4oz weedless gold spoon. Blackwater and Escambia bay will continue to gett better as the water temperature drops.


I will continue to run specialized redfish trips throughout the winter. These trips are for people strictly wanting to learn how to target winter time, shallow water, reds. Each trip with consist of knot tying, proper baits, tides, hot spots, and lot's of redfish catching! I will run these specialized trips through April 1st. This years price will be $250 for 1 angler, and 50$ for each additional angler. Book now! Slots for November are filling up!

Stay tuned for more reports and pics throughout the winter. The redfishing will only get better...
Tight lines
Capt Brant Peacher

Target Species:

Redfish
More Fishing Reports: