Sheepshead Red Fish and Speckled Trout
Capt. Joshua Lim
March 23, 2017
Pensacola - Saltwater Fishing Report


Family of 4 Catches More
Tis that time of year folks! Sun is shining water is warming and the fish are definitely biting!!!! at www.limitoutcharters.com
As the water temps rise the inshore fishery is becoming more and more productive across the board. Fish such as Red Drum and Speckled Trout have found there way back to the grass beds lingering around the 1.5-3ft range. Right now the Reds are schooled up hunting in packs so if you hook 1 you can be sure that you have found a vast majority. I like to have my clients throw artificial lures such as Rapala - Jerk Baits, Matrix Shad - paddle tails, and Heddon Zarra - Spooks. All these lures are user friendly and can be highly productive even for the most novelist fishermen to the highest grade bass fishermen. You can expect to be chucking and winding these lures on Shimano Stradic Ci4+ Reels and Tsunami Elite Air Wave Rods a very light sensitive combo that will keep you casting throughout the entirety of the trip with confidence and comfort.
As we protrude later into the month of March the bite will only become better* We have even began to see a few flounder trickle back into the inter coastal waterways. The ( ICW ) as most would call it is also filled will Red Snapper, Big Red Fish, White Trout, Mangrove Snapper, Trigger Fish, and Pensacola's famous Spring time Sheepshead.
As of right NOW the Sheepshead are in Mega Schools ranging from an average of 3-6lbs up to 10lbs. What makes this bite so good is its predictability a almost sure thing* Perfect for families and kids of all ages. They put up a great fight and taste amazing. We catch these fish using live bait such as fiddler crabs and shrimp. Simply drop down and hold on!!!! In the mix of catching the sheepshead you are bound to catch the fish mentioned above as well #EVERYTHING EATS SHRIMP
Today's Report
Took a family of 4 out today. Father, son, Mother, and daughter all ready to bow up on some fish. We took position on my GO2 secret Sheepshead spot and boy where they some quick learners. It didnt take long before I heard that screaming sound of a Shimano Drag going off.... within minutes we had already boated a multitude of species. By the end of the first hour for whatever reason the girls on board where catching 85% of all the Sheeps.... and you know how this goes now the girls where getting cocky with a little smack talk hahahaha ( all in good FUN )
Really the deal was that the ladies would allow for the sheeps to nibble and bite they weren't to quick to set the hook. They would let the sheeps bite until their Rod would Bow up and then start reeling and set the hook.
Thats when the boy started to shine like his sister be began to not be so quick on the draw and started a little catching spree of his own!!! Now the whole family is smack talking the Dad. He's loosing shrimp left and right getting bites on every drop and couldnt hook into the thieving Sheepshead.
*****Sheepshead are known as the convicts of the sea with their black and white stripes and molar like teeth they have perfected the art of stealing bait. Hence the name Convict ******
Once Dad dialed into the bite he was a fish catching machine definitely ran his tally up by the end of the trip. But even with all of his fish none could stand to the biggin that his daughter caught. She had never caught anything other then a brim in her life and was very proud to have caught the big fish of the day!
This Family of 4 was here on Vacation and I was honored to have them on my boat. They were able to make some new memories while salt water fishing for the first time and enjoy a bountiful amount of freshly caught fish with rest of the family members waiting for them at the beach.
Tight lines and Good Fishin
Capt Josh
(650) 201-4604
www.limitoutcharters.com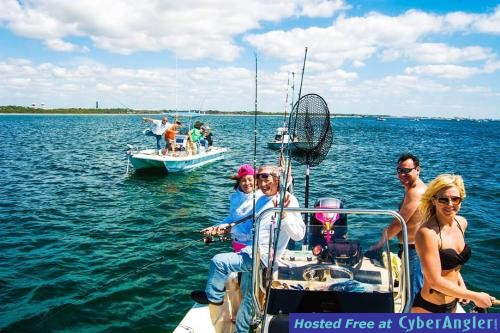 More Fishing Reports: