Early Spring in Southwest Florida
Capt. Bill Russell
February 16, 2012
Pine Island Sound - Saltwater Fishing Report

It may be February in southwest Florida but Spring is in the air. And in the water, with each passing warm week, set back by a cool day here and there, you can already feel the transition of the seasons on the water
Trout fishing is really good, seems every grass flat is loaded with fish; the future looks great, I can't remember in recent years so many sub legal fish. There are also plenty of larger fish and the average size will increase with each day we edge toward Spring.
Bouncing the bottom with shrimp and jig combinations is not only a good choice for trout, but also a likely technique to get rewarded with some tasty pompano.
Sheepsheads fishing has been OK, nothing great, honestly we have only really targeted them on days when it's too cold to fish for anything else, and those days have been few and far between this winter.
There are plenty of Spanish mackerel around and the longer stretches we have with warm weather the better the bite gets. Some big macks are showing up early in Charlotte Harbor this year. Bluefish and cobia are also mixed with the mackerel, plus there are a few large sharks and tarpon making an early appearance.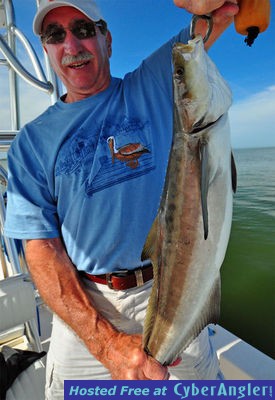 Snook is another angler favorite that really responds to the warmer weather, we are catching snook, and some big ones, in areas where we generally don't see them for another month. Snook is catch and release only, but a ton of fun, especially in the cooler water, please handle them with care and get them back in the water quickly for a healthy release.
It's hard to tell what the future holds, but if the past couple months is any indication we are in for an early spring season. You won't hear any complaints from me, that's by far my favorite season to fish!
For charter information, please contact us at:
Phone: 239-283-7960
Website: www.fishpineisland.com
E-mail: gcl2fish@live.com
"Catch the Action" with Captain Bill Russell

More Fishing Reports: