Port Canaveral Offshore 02-09-22
Capt. Henry Hauch
February 10, 2011
Port Canaveral - Saltwater Fishing Report

With decent weather we ran out to deeper water to see what the surface temps looked like, and fish the wrecks. We trolled lines when conditions looked promising, but with temps still on the cool side, the bottom got most of our attention. We hit 5 bottom sites on this trip from 200' to 70', and Red Snapper were at
everyone of them. These were not under-slot sized fish, nor even bairly legal ones, but heafty "family sized" fish. In all we likely boated 200-250lbs of this very abundant fish.


I had 3 avid anglers on the trip this time, including a Charter Captain from the Great Lakes. Of coarse our warm water tropical specis fight much harder pound for pound than their cold water cousins.


Like most of my guest, they get a chuckle out of the fisheries reasonings for closing these fisheries. After todays catch, they like some many other hundreds of thousands of informed
anglers simply shake their head in dismay!


There were enough Red Snapper to go around for all, so I even got to do some "Catching" this trip.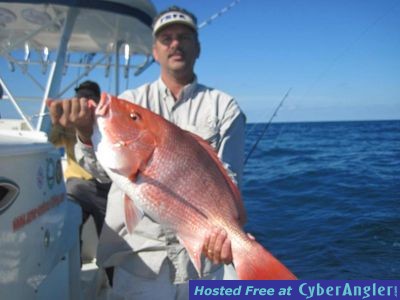 There were other 'Fish in the Sea' fortionatly, which we could bring home, though on this trip, not as abundant, nor as large as these Red Snapper. We did bring back Black Sea Bass, Trigger Fish, and Mangrove Snapper.


There were some big fish we hooked up on the trip. One proved to be a 5' Stingray caught in 80' of water. This was cut loose after getting it to the boat. Two other bigger fish took live pins and made screaming runs (on a 100lb rod with a modified 6/0, and 80 lb braid). Despite a drag set tight, the fish peeled line, and apparently took it to the rocks, rubbing through the 80lb braid. Even though these fish were never near the boat, my guest had the adreneline rush that our waters often provide. A few of the stranger looking fish we have were caught including Lizardfish, and this Toad Fish.


The winds picked up as the day went on, and the ride in was a little choppy and wet, but in all it was a great day on the water. Even though these "Overfished", "Rare", "Nearly Depleted"
fish like the Red Snapper and Black Sea Bass dominated the day, the Red Snapper all had to be released, and in only a few days, the same will hold true with the Black Sea Bass. What do you
expect though when person picked to head the fisheries two years ago had to resign from her position with one of the countries biggest enviormental group, one thats has a very well known
agenda of closing fisheries, and shutting out fisherman?


Until the problem gets fixed, well keep Catching all we can, and Keeping what were allowed.
Captain Henry
ACME Ventures llc
www.acme-ventures-fishing.com/
321-794-7955
602 Glen Cheek Dr., Cape Canaveral Fl.
Deep Sea Fishing Charters - Port Canaveral
More Fishing Reports: