Trout, Flounder, and Big Spanish!
Capt. John McDow
July 9, 2012
Port St. Joe - Saltwater Fishing Report

Tropical Storm Debbie kept us from taking the boat out last week. The weather wasn't too terrible but we had a lot of rain and some rough seas. The bay has been stained since the storm but it is beginning to clear up. The fishing has been decent this past week. The afternoon heat has been hard to handle so I have been trying to get on the water early. The trout bite has been good but most of the trout have been on the small side. They are hitting top waters early and will continue to hit on top until mid morning on cloudy days. After the sun is higher we have been catching trout on D.O.A. shrimp and on electric chicken paddle tails (3"). We also hooked a couple of decent fish on Pinfish rattle traps. Most of the trout are coming out of the deeper holes in 5-8 ft. of water. This weeks keeper trout were found from Presnell's Channel North through Town Beach Flats. Several other people that I talked to also reported nice trout around the Pompano Point area on the Cape side of the bay. The flounder bite has been great this past week. Flounder are being caught everywhere in the bay. Most of the flounder are being caught on live bait but some are being caught on small paddle tails and curly tails on 1/4 oz black jigheads. In addition to the trout and flounder there have also been plenty of sharks, bluefish, and big spanish around (4 lbs+). Just look for the birds diving straight out from the PSJ marina every morning and you will find all of these!
I enjoyed getting some emails from other CyberAngler fans who were fishing in PSJ this week. I always love talking fishing with anyone and love seeing everyone's fishing pictures. I don't just post reports on CyberAngler in hopes of booking charters. I am more than happy to give anyone some tips if it helps them catch some fish. I'd love to see more pics from everyone fishing the bay. You can email them to me at john.cassie@yahoo.com or post them on my facebook page (FishTalesCharters).
I do not have any days open for the remainder of July but I still have lots of openings in August. Give me a call at 732-278-2672. Let's go fishin'!
Sorry I don't have many pics to post this time. I will try to take more pics in the next couple of weeks. Check out this one very strange catch from this week.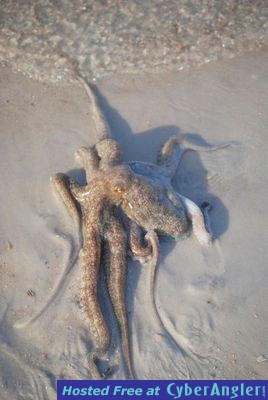 Plus a picture of my buddy Ethan's first fish ever that we caught from the pier during the storm.
Port St. Joe Fishing Forecast:

Good trout and flounder bite early! Spanish, Kings, Bluefish, and Sharks in the North end of the bay.
Target Species:

Trout, Flounder, Spanish, Sharks
More Fishing Reports: