Good Action on Sarasota Bay Deep Grass Flats & Dock Lights
Capt. Rick Grassett
September 4, 2017
Sarasota - Saltwater Fishing Report

Anglers fishing with me, out of CB's Saltwater Outfitters on Siesta Key, had some action with snook around dock lights and trout on deep grass flats of Sarasota Bay during the past week. This is a great time of year to beat the heat, by fishing dock lights before dawn, which is the coolest time of day. In addition to snook, you may also find juvenile tarpon, trout and reds in the lights as we head into fall.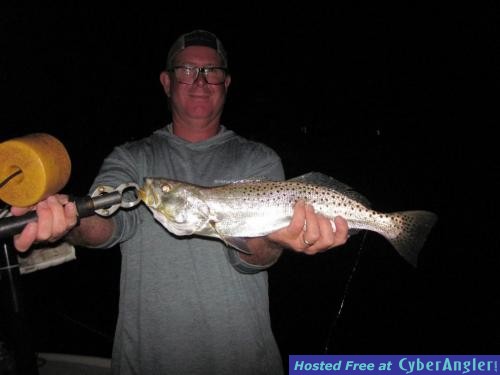 Labor Day weekend is often "family time" on the water and this weekend was no different as kids had some fun fishing with family members. Fly angler Randy Ritzenhaler and his daughter Elise, from TX, fished a predawn snook/flats trip in Sarasota with me on Thursday. Randy had some action before daylight catching and releasing snook and a nice trout on my Grassett Snook Minnow fly fished on a sink tip fly line. They also had some action catching and releasing trout on an Ultra Hair Clouser fly and a CAL jig with a shad tail on the west side of the bay.
Despite all the rain we've had, except for tannin stained water, deep grass flats of Sarasota Bay looked good. I had a couple of trips on Saturday and Sunday and the best action was with trout over deep grass flats. Al Ribas, from Miami, FL, and his grandson Michael, from Port Charlotte, FL, had some action catching and releasing trout on CAL jigs with shad tails.


You may find juvenile tarpon, trout or reds mixed with snook in dock lights. You should also find juvenile tarpon in canals and creeks and adult tarpon in upper Charlotte Harbor and some areas of Sarasota and Tampa Bay. Fishing lighted docks and bridges in the ICW for snook with flies and DOA Lures should be a good option. This is also a good time frame to sight fish for snook in the surf. Snook season reopened on Sept 1st on the west coast of Florida. Bag limit is 1 fish per person, per day between 28"-33". Full regulations can be found at www.myfwc.com. Personally, I will continue to ask that snook be released on my boat. They are a magnificent game fish that hits hard and fights strong and smart. If continuing to release them now means more and bigger snook later, I'm all for that.
Tight Lines,
Capt. Rick Grassett
FFI Certified Fly Casting Instructor
Orvis-Endorsed Fly Fishing Guide at CB's Saltwater Outfitters
Orvis Outfitter of the Year-2011
More Fishing Reports: