Back Country Producing Redfish, Snook, & Seatrout
Capt. Brian Boehm
September 8, 2019
Sarasota - Saltwater Fishing Report

September fishing in Sarasota and surrounding areas has started out strong. We've done well on snook, redfish, seatrout, and other inshore species so far this month. We're nearing the end of our summer fishing trends and transitioning towards fall trends. Day time temperatures are still warm, but evenings are beginning to cool down. The shallow flats and mid-depth grass flats have provided good action for those fishing in Sarasota and surrounding areas in early September.


Snook
There are plenty of snook available at night on dock lights around Sarasota Bay, Little Sarasota Bay, and Blackburn Bay. It seems with these warm temperatures that the larger snook have a preference for feeding at night. During the day, the back country has been productive for snook. Anglers fishing with Quiet Waters did well fishing south in Charlotte Harbor in areas like Bull Bay and Turtle Bay. The best baits have been the dependable Aquadream ADL spoon and the Mirrodine Mirrolure XL. Fly anglers did well fishing the points of mangrove islands using clousers, deceivers, and gurglers.
Redfish
We found most of our redfish mixed in amongst schools of mullet or roaming grass flats near sand bars. The most dependable bait for redfish has been the spoon, but we have taken a few on plugs as well. Fly anglers had the greatest success using shrimp patterns and EP baitfish flies while targeting redfish.


Seatrout
Seatrout fishing around Sarasota remained strong to start out the month. Grass flats in the 3-5 foot depth range with good tidal flow and the presence of bait held plenty of seatrout. Soft plastics on jigs, shrimp imitations, and suspending plugs were all effective when targeting seatrout. Most of the seatrout we're finding are between 16 -20 inches, but recently on scouting trip, I landed a massive seatrout that I estimated was around 27 inches and over 7 lbs. That's a special fish to take on artificial baits and I was disappointed to not have someone with me to grab a nice picture of me and the trophy seatrout.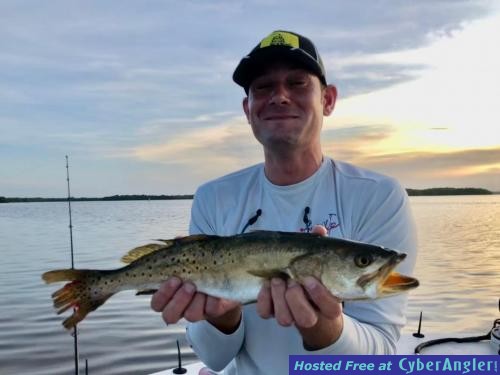 Inshore fishing in Sarasota and surrounding areas should continue to strengthen as we move towards cooler temperatures. We're approaching the end of night tarpon season, but juvenile tarpon should still provide action until water temperatures cool significantly. Dock lights are still the best place to hook into larger snook right now for fly fishing anglers or artificial lure enthusiasts. Fishing in the back country is good now and will only continue to improve as we move further into the month.
See you on the water soon!
Captain Brian Boehm
Quiet Waters Fishing
941-400-6218
Guide at CB's Saltwater Outfitters
Sarasota, FL

Target Species:

Tarpon Seatrout Snook Redfish
More Fishing Reports: