Great Fly Fishing in Action in Sarasota Coastal Gulf
Capt. Rick Grassett
November 19, 2017
Sarasota - Saltwater Fishing Report

Anglers fishing with me, out of CB's Saltwater Outfitters on Siesta Key, had good action catching and releasing tripletail, Spanish mackerel and false albacore (little tunny) in the coastal gulf on flies, CAL jigs with shad tails, jerk worms and DOA Shrimp during the week of 11/6. I was away, hosting a group of fly anglers during the week of 11/13 at Mars Bay Bonefish Lodge on South Andros, Bahamas, so I don't have a local report for that time frame. A report on that trip will be posted on the Destination Trips page of my web sites, www.snookfinaddict.com and www.flyfishingflorida.us .
Massimo Giardina and Tatiana Migliaretti, from Switzerland, fished the coastal gulf with me on Monday, 11/6. They had good action catching and releasing Spanish mackerel, several albies and a couple of tripletail on flies and CAL jigs with shad tails. Tatiana caught and released her first tripletail on 2.75" DOA Shrimp and Massimo scored his first albie and tripletail on flies. Great job!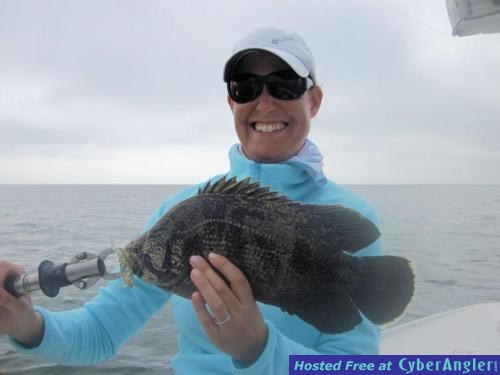 Fly anglers fishing with me also had great action another day with albies, catching and releasing more than 10 on my Grassett Snook Minnow and Ultra Hair Clouser flies. A bonus for the day was catching a cobia on a fly off of a huge Manta ray, the only one I've ever seen in more than 30 years of fishing in Sarasota. The action was so good that we couldn't leave!
With the water temperature in the low 70's, action with Spanish mackerel, albies, tripletail and cobia in the coastal gulf should continue. There should also be good action with trout and more on deep grass flats of Sarasota Bay. Shallow water action for snook, trout and reds is improving due to cooler water. Fishing lighted docks and bridges in the ICW for snook with flies and DOA Lures should also be a good option.
Tight Lines,
Capt. Rick Grassett
FFI Certified Fly Casting Instructor
Orvis-Endorsed Fly Fishing Guide at CB's Saltwater Outfitters
Orvis Outfitter of the Year-2011
More Fishing Reports: