Sarasota Fishing Report
Capt. Terry Frankford
October 2, 2011
Sarasota - Saltwater Fishing Report

Fishing Report 10/02/2011 – Capt. Terry Frankford
Fishing has been a little tough, however if you look long enough and hang in there you will most likely catch dinner. The water is just starting to cool down enough for the fish to get active. I saw 83 degrees water temperature in Sarasota Bay this week.
Morning trips aboard the Reelin & Chillin brought trout in north Sarasota Bay using white bait and live shrimp. If you can get to the mangroves during a high tide reds will hit white bait and live shrimp. Also, I found some nice slot reds just yesterday around docks – casting live shrimp under the dock was a must to hook up. Some nice sized flounder have been picked up in channels close to New Pass – jigging live shrimp with a small split shot to get to the bottom worked well. Spanish mackerel, bluefish, jacks, ladyfish have also been on grass flats hitting the schools of small white bait that's all over the bays. Snook can be found around the mangroves now, lots of white bait chummed will get them started for some great catch and release action on light tackle.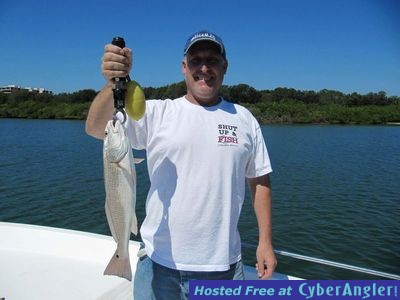 Bait used was live hand-picked shrimp from Hart's Landing Bait located at 920 John Ringling Causeway in Sarasota Florida. Also, green backs were netted along the beach prior to the start of the trip by the captain and used for bait.
Tight Lines & Good Times, Capt. Terry Frankford
Reelin & Chillin Charters Inc.
941-228-7802
terry.frankford@verizon.net
www.charterfishingsarasota.com
www.naturetourflorida.com
www.wildshotsphotography.com

Sarasota Fishing Forecast:

Fishing will start picking up as the water cools. Temperatures are already cooling and fish are getting more active. Redfish, snook, trout, flounder spanish mackerel and a few pompano should tighten lines.
Target Species:

Snook, redfish, trout, flounder, mackerel
More Fishing Reports: