Seeing Spots in Tampa Bay
Capt. Dan Bumgarner
January 4, 2009
St. Petersburg - Saltwater Fishing Report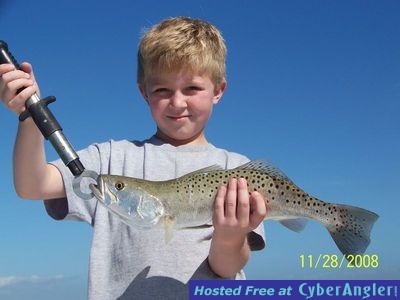 Last month Tampa Bay earned her stripes (sheepshead stripes) and this month she is seeing spots, seatrout spots that is. January first marks the reopening of spotted seatrout fishing in the southern region of our state. During the closed months of November and December catch and release fishing for trout is permitted but many anglers, myself included, elect to give the trout a little break and pursue other species. The trout we have been catching lately are really top quality fish. The red tide of a few years ago devastated the trout along the central west coast of Florida and to be quiet honest I am really surprised that the trout population of Tamp Bay has rebounded as well and as quickly as it has.
On resent trips I have not found the trout to be as wide spread as they will be later in the spring, but once located the schools have held good numbers of keeper size fish. Most often I am finding the trout on the deeper edges of the grass flats. With the nice weather and good water conditions that we have had recently I just could not resist working the shallows with top water lures. This is a great way to catch large trout in the spring and fall but not that productive in the middle of winter. Obviously the trout can read the calendar better then I can because they did not cooperated until I came off the shallows and switched to soft plastics.
My go to trout lure is a four inch slugger tail on a 1/16 ounce red jig head. My favorite color for these tails is motor oil with red flakes followed by pearl and then gold flake in that order. I fish these lures on six and a half foot spinning rods that are light in weight but have a fairly heavy action. Even though many of my customers are beginners they have no trouble mastering the skills necessary to cast and catch trout. Even kids have no trouble with the gear as evidenced by the accompanying photo of Eathan Zeitler with a nice trout he caught on a recent trip with his grand dad.
If you plan to try these lures bring along a good supply, because the blowfish and bluefish have been trashing them by the dozens. The blowfish are a great curiosity for the kids and very few fish fight as hard as a bluefish but it can get expensive when every cast yields a chopped off or otherwise mangled lure. What I have been dong to remedy this situation is switch to hard plastic lures or spoons. Don't forget to add a short trace of at least 30 pound test leader material.
Remember to take only what you need for a nice fresh trot dinner and carefully release the rest. The time is right so get out there and fish until you too see spots before your eyes.
Capt. Dan Bumgarner
Tampa Bay Charter Fishing
www.tampabaycharterfishing.com

More Fishing Reports: