Boss Treats his Employees
Capt. James Ewing
July 23, 2013
Stuart - Saltwater Fishing Report

July 19:
Brad Scott chartered the boat for 2 half day trips today. He sent some of his employees on each trip. On the morning half we caught 12 bonitos and a keeper cobia. Plenty of action to keep the guys busy.
We got back at noon to pick up the second group. They had their hands full right away trying to keep some giant Goliath Grouper from getting back to their holes, to no avail! They were too tough for the tackle we had.
We then ran offshore to look for some trolling action. The trolling was very slow. We only managed to catch one bonito. We ended the day trying some bottom fishing, had a couple bites but did not catch any bottom fish. One of the guys did get to catch an estimated 125 pound Dusky Shark though. It was very exciting having the Shark alongside the boat trying to get a tag out of the side of it though. The line broke before I was able to get down off the bridge and try to get it while Van (the mate) had it on the wire.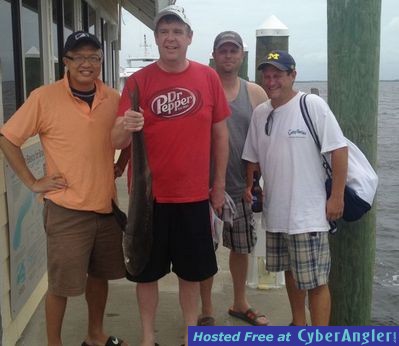 July 20:
The trolling today was somewhat slow, but Mike caught a Sailfish and his 13 year old son caught his first Sailfish. The best part about it was it was a double header!
We ended up fishing in 350 feet of water on an edge. The water was dirty inshore of that depth. After going inshore to try bottom fishing, I figured out there was way too much current - 3.5 knots of current in as far as 90 feet of water.
We then trolled around a bit because we needed a bonito for chum. After we caught a bonito we went to the Bullshark Reef to try our hand at catching a Goliath Grouper and maybe a cobia. The cobia didn't show up but Mike and James each caught a Goliath. Mike's was around 150 pounds and James's was around 225 pounds! We had to get out our Blue Marlin rod and reel to tackle these big fish! They got to fight them from the fighting chair strapped into the bucket harness. These fish really put up an awesome fight.
Ask us about catching these big fish when you call or e-mail and we will have the heavy tackle ready. An exciting of day of deep sea fishing in Stuart, Florida.
Capt. James Ewing
www.boneshakercharters.com
(772) 286-5504

More Fishing Reports: