Fishing has been Excellent
Capt. Patrick Price
June 3, 2017
Stuart - Saltwater Fishing Report

For the last month fishing out of Stuart Florida especially the bottom fishing has fallen into place and action is steady with a variety of species and some giant fish. Limits of 15-65lb Amberjacks have been hitting the deck of the DayMaker and the Alikai most of the days. We have also seen plenty of days with multiple Cobia filing the box on both offshore boats and Capt Marshal on the inshore boat. Cobia have been caught both sight fishing with light tackle and while bottom fishing for Grouper and Snapper. Grouper continue to hit the deck in good numbers up to 25lbs on our primary local offshore charter boat the DayMaker. Snapper fishing continues to be excellent with 8-20 fish coming over the rail up to 20plus pounds. Vermillion, mangrove, mutton and ARS have been the primary snapper species encounters on deep sea bottom fishing charters out of Jensen Beach near Orlando and Palm Beach Florida. Almaco jacks or "poor mans grouper" have also been filling the fish box on the DayMaker and the Alikai. These tasty white meat fish are excellent Fighters and table fare.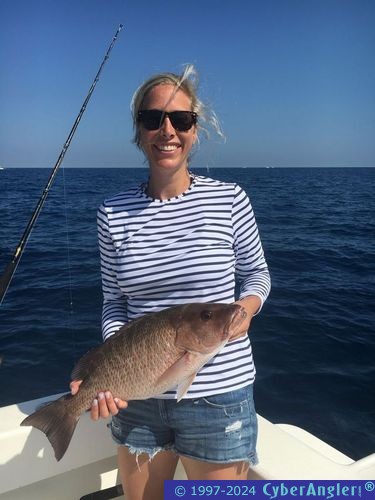 I'll have to admit what has been ultra-disappointing and next to non-existent is our mahi mahi fishing. In my opinion we have not had a spring run yet. Last time this happen 3 years ago I sat laid up after rotator surgery and everyone was mugging up gaffer mahis in August and September. I'm hoping and praying that this happens again. We have picked away at a few on our flatlines while bottom fishing and caught some quality fish in the 15-20lb range but not 5,10, or 20 a day. It's been a couple and mostly small. Can it break loose any day? Yes! Will it? I don't think any of us know. However some decent fishing is going on in the upper keys and those fish will eventually make their way north. So time will tell when and how good it will get. We have been encountering some sailfish still. Our top day we saw 9 but only got 2 to bite and caught both of them. Most of the fish were in pairs and seemed to be in a mating ritual. Our late spring and summer fishery is unique in south Florida. The fish that migrate south in the Winter with cold fronts pushing them eventually turn around and make their way back north for summer and the fall. The ride North on the conveyor belt known as the Gulfstream. And they go on their own accord. Nothing forces them this time of year that we are aware of except it's just time. One day we can see 20-25 sails and catch double digits and then the following week we see 10 the whole week. However it can be an exciting fishery as most of the fish are caught on spinning tackle while sight fishing.
We continue to have good overnight tuna charters when we get to go. Last 3 out of 4 trips were canceled but on the trip we did make we caught 11 tuna with the biggest in the 40-50lb range. We also caught 4 gaffer mahi and 1 out of 2 blue marlin bites. The blue marlin we caught was between 400-450lbs and after getting the release in 10 minutes we spent 2 more hours fighting the fish to get the lure back and some photos.
Inshore and nearshore charters with Capt Marshal continue to produce epic numbers of snook, some quality trout, and plenty of Cobia. Jacks continue to consume time between snook encounters. Fishing inshore charters in the Indian River Lagoon will continue to heat up as does summer. Tarpon are already starting to make a good showing on the beach and in the inlet. His best trip in the last couple weeks he put 9 tarpon in the air with customers. Snook catch. Users continue to climb with some trips reach 30 plus pounds.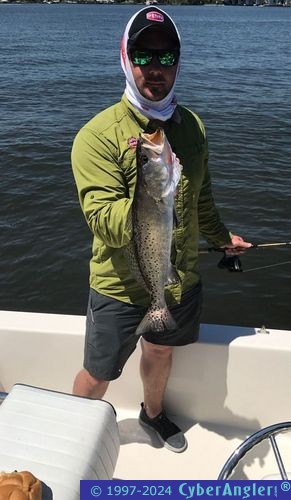 Capt. Patrick Price
www.daymakerfishing.com
(772) 405-0091

More Fishing Reports: