Big Goliath Grouper Action
Capt. James Ewing
July 30, 2013
Stuart - Saltwater Fishing Report

July 25:
We started our day by leaving the inlet and running up the beach to the north looking for live bait. I talked to a friend on a flats boat who did catch bait, but he was so close to the beach when he caught it the water was to shallow for us to get in there and take advantage of the opportunity. So after running several miles up I decided to go offshore to the "14 buoy" and see if there was any bait or maybe a Cobia hanging around. We only managed to catch a couple Blue Runners while we were there.
After running out to 170 feet to try our hand at bottom fishing and having no luck on several drifts we started trolling. The trolling also proved to be very slow. We NEVER had a single bite while trolling. I then decided to try catching an Amberjack for some action and they weren't biting. I was pulling my hair out trying to get a bite for our clients!
The water quality inshore is really poor right now because of all of the water that is being dumped out of Lake Okeechobee but, I decided to move in to the Bullshark Reef to try our hand at some Goliath Grouper fishing. That did work out! Tim and his 3 friends all got to reel 1 fish in. Very exciting action considering these fish can be up to 500 pounds. The biggest one we caught was around 200 plus pounds. The other 3 were estimated at 125, 100 and 80 plus pounds. Great way to end a slow day of deep sea fishing in Stuart, FL.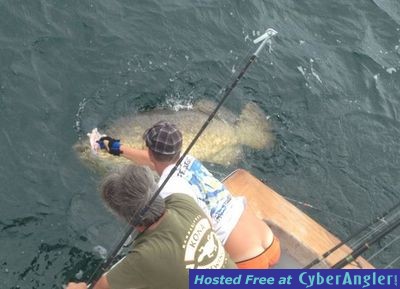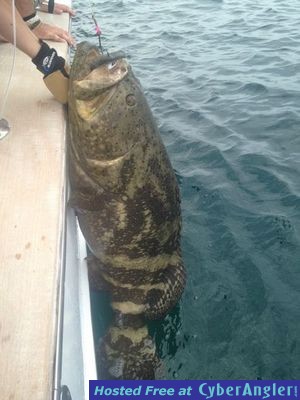 July 26:
After delaying our departure by 2 hours today, due to thunderstorms, we got going at 9:00am. After talking to some other boats that had already been offshore, we decided not to look for live bait this morning. Instead we ran out to a current edge in 140 feet.
We set out with a spread of ballyhoo, and of course one dredge teaser. We always pull at least one dredge no matter what time of year it is because they are very effective. We had our trusty squid chain teaser on the other side of the spread. I trolled us along the edge to the north for a while,then saw another edge offshore. I then headed south along that edge trying to find something to bite. We caught 5 bonitos while trolling on the offshore edge and kept them to use for bait.
After trolling aroud to 5 or 6 spots to bottom fish on and dropping several times on each we only had one nibble that we did not catch. I think the discharges from Lake O are messing up all of our bottom spots! Since we weren't getting much action offshore we moved in to 40' where the bull shark reef is located. Darryl, his wife Judy, and their 2 friends spent the last 2 hours battling Goliath Grouper. We caught 7 of them up to 250 pounds then called it a day with everyone sweating from reeling in these behemoths!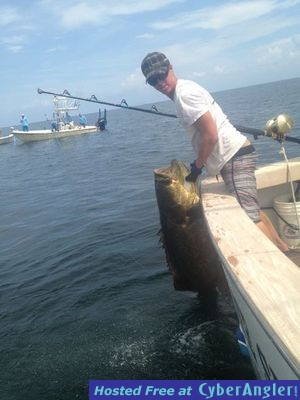 July 29:
On our half day of fishing today we had Lyn and his 16 year old son Trent. The weather was beautiful! Clear skies and calm seas are always a big plus.
We started our day trolling around some artificial reefs in 150 feet of water. It didnt take very long to catch a couple of bonitos. Great fighters, but only good to use for bait for other species of fish. At least the action started early!
After trolling for maybe an hour with no bites Trent caught an estimated 15 pound Mahi for some dinner to take home. We then tried to catch some amberjacks that i marked on the fish finder while trolling. They did not want to cooperate though and after several attempts we move on to do some more trolling.
While trolling in 120 feet I spotted 2 sailfish on the surface chasing bait. We got to see them several different times but they didn't want to eat our trolled ballyhoo. Too bad there isn't any live bait around right now. I think that the dumping of Lake O is messing that up, there is normally tons of sardines around this time of year, but they are nonexistent now.
To end the half day we went inshore to the Bullshark Reef and each of them got to catch and release 1 Goliath Grouper each. The one Trent caught weighed more than he does! Everyone had a great time. If you would like to book trip with us to catch giant grouper and some other species trolling out of Stuart, FL, call 772-215-9598, my cell phone.
Capt. James Ewing
www.boneshakercharters.com
(772) 286-5504

More Fishing Reports: