Late April Stuart almost slam
Capt. Ryan Floyd
April 22, 2014
Stuart - Saltwater Fishing Report

Finally enjoying a nice break from the ugly weather. Snook have been the hot bite around the river with a few reds mixed in. I have seen tons of bait flooding the river now and getting liveys is not much of a problem. I took most clients back into the St. Lucie River with live baits this week. Pretty much consistent action everywhere with the best bite at the Evans Crary bridge. As the swell offshore subsided, we were finally able to work some of the inlet rocks and found plenty of snook along with a tarpon that spit the hook. The tarpon could have given us the Grand Slam that day! Not much size to the snook but they are there. I haven't been back by the Roosevelt lately, will report on that soon.


Found a few redfish this week scattered around the river. The most consistent has been north of Jensen Causeway on the west side(since we can finally fish that side)and around Hells Gate. I have seen some well over slot fish, lost one of them and caught a few slot fish. Our slot reds ate DOA Cal glow head with Arkansas Glow body. The big red I lost was on a pinfish on a popping cork.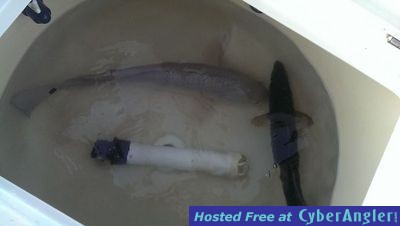 Again, since we can finally fish the west side of the river, there has been a great trout bite. The trout are chewing in early morning and last 2 hours of day light. DOA deadly combo and DOA Airhead are all that I have used. Every trout I have caught has been up to 18inches or so. Need to look up by the power plant or around sailfish flats for a real gator trout it seems….


Redfish and trout tacos took care of us on Easter. Hope everyone had a good Easter as well.
Boat is going into the shop for a few days. Until next week…..
Fish on,
Capt. Ryan Floyd
www.irlfishingcharters.com
772-370-1829
More Fishing Reports: