Nicer Weather, Better Fishing
Capt. Bob Bushholz
March 28, 2013
Stuart - Saltwater Fishing Report

The weather has been a little crazy lately with cold fronts and lots of wind but should settle down nicely for the weekend. We have been fishing the St. Lucie River quite a bit in the Hell's Gate area with a wide variety of fish. Under the docks along Sewell's Point look for mostly snook and mangrove snapper down on the bottom. Gulp and live shrimp on trollrites are working best. While drifting just outside the docks, a mix of ladyfish, jacks, Spanish Mackerel to four pounds, lots of sheepshead and even a few ribbonfish. We are finally starting to see a few pompano here bouncing Capt. Joe's pomp jigs in both yellow/white and pink. With the recent north winds, outgoing tide has been best not only in this area but just about everywhere. When you get wind against current it makes it difficult to get your baits down and also effects your drift speed.
Around marker 19 look for bluefish and blue runners on the outgoing. The ten cent bridge is holding a few snook, croaker, mangrove snapper but have not seen any black drum here in a week. I've heard reports of drum at the Roosevelt Bridge but its too much running time for me on half day trips.
Moving to the inlet, lots of dredging equipment and tugs along the south side so I've been drifting the north side along Sailfish Point picking up sheepshead, black margates and a few blues. So far this year the bluefish has been nothing like a few years ago when on a few trips we caught over 120 in a half day. It's been cold enough for sure !!! In the crossroads a few bonefish to 17 inches along with jacks and ladies. Lately we have been catching more pompano in the St. Lucie river than anywhere else but still remains on the slow side. Outside it seems the mackerel have spread out from Peck's Lake and are right outside the inlet. For the mac's I jig frozen shrimp on trollrites along the bottom or cast Joe's flash and dash green mackerel jigs.
The Sailfish Flats have been slow. I have been giving it a drift or two lately but this area along with the Stuart Causeway should pick up pompano wise. At least I have my fingers crossed!!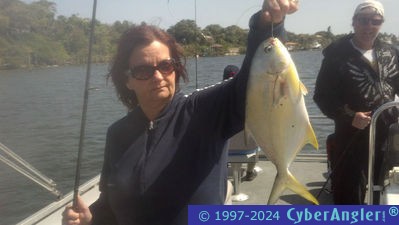 Capt. Bob Bushholz
www.catch22fish.net
(772) 530-1496

More Fishing Reports: