Sailfish are Here and Happy New Year
Capt. Patrick Price
January 13, 2015
Stuart - Saltwater Fishing Report

January 1:
Happy New Year to all our family, friends and customers - new and old. Mandy, Zane and I wish you a safe and Happy New Year. We look forward to seeing you in 2015 for some great fishing charters.
January 2:
We fished a split charter today and had minimal results despite good conditions. Hopefully a couple more cold fronts and the sailfish will finally show up.
January 3:
Today we had double 1/2 days scheduled for some Stuart offshore fishing. We ended up trying to go on our morning trip and Diane was not to excited about the sea conditions when we hit the inlet so we turned around. Our after 1/2 day charter also took the option to reschedule their trip with increased wind in the afternoon.
Hoping for some better weather and fishing in the coming weeks.
January 4:
Today we fished with Jim and his guests. While we were catching bait one of the guys started to get sick. I offered to turn around but they wanted to press on. We the poor fella continued to get sick all morning. I pulled the plug at 11:15 and made it a 1/2 day. We had 3 bites and caught 3 mahi to 15lbs
January 5:
Ran up the beach today and ended up covering 89 total miles trying to catch our guys their first sailfish. We had the right conditions with a front passing through and north wind 10-15 knots, pretty water, plenty of bait but no sailfish still!
I heard of 2 fish caught out of my inlet and 1 boat caught 4 sails fishing 15 miles north of the Northern most point that we reached today. We caught a couple of Blackfin tuna and bonito. Had some king bites as well.
Pretty poor, I hope something changes with the next front!
January 6:
This year will be the first year since 2000 that I have not participated in the Pelican Yacht Club Tournament out of Ft. Pierce Florida. The OUTLAW was for sale and has an offer on it and the new OUTLAW is preparing to load on a ship to Costa Rica.
Was not able to book today or tomorrow in the short notice but we are scheduled to fish Thursday thru Saturday!
January 7 AM:
Marshall reported good action with jacks, ladyfish, bluefish and Spanish mackerel. They also caught some pompano for dinner on their morning 1/2 day light tackle river charter.
January 7 PM:
Marshal reported non-stop action for his guests this morning catching plenty of Spanish mackerel, jacks, bluefish and some pompano.
This is a great time of year for non-stop light tackle action. Great for the kids or the novice angler. Give us a call to book your river or inlet charter on the 22' Pathfinder.
January 8:
We were forced to cancel our charter for sailfish today because of a North wind forecast of 20-25knots and seas 8-11ft. A little choppy for us!
Hopefully this is the front we are looking for...
January 9:
Today my charter decided to cancel the trip at 5:45 because of the current sea conditions. Well I was rigged up and sick of sitting at the dock so I went fishing. I had great fishing as well as did the two tournaments that were going on. I caught 6-10 Mahi-Mahi and 3 of 5 sailfish trolling right out front.
The Pelican Tournament saw good fishing about 35-65 miles North of where I was. Boats caught as many as 11 sailfish today. In the silver sailfish derby to the South out of Palm Beach Inlet the fishing was a little slower but still decent. The top boat for the day in that tournament released 7 sailfish.
I am pretty jacked up for tomorrow. The sailfish are finally here...
January 10:
Today we ran up the ditch to Ft Pierce Inlet and fished a 6 mile stretch of water in 175-185ft and we had excellent fishing for sailfish. We trolled all day and raised somewhere between 25 to 30 sailfish on our trolling charter for sailfish. Our charter had 16 sailfish bites and released 9 of those fish. We had some bad luck chaffing a leader, breaking a hook and breaking a main line, but 9 sailfish and 3 mahis to 12lbs for dinner.
That's what I call a great day of charter fishing.
We have a few days left at the end of January and about 15 days left available in February. A couple more cold fronts and the fishing is going to be excellent and the fish will be right on our door step.
The Pelican Yacht Club Sailfish Tournament ended today and the boats fished from a few miles above where I was to up to 40 miles North and everyone was catching sailfish and with big numbers. The top boat released 17 sailfish in the tournament and 7 boats had between 9 and 12 releases. The best of the fishing for DayMaker charters was 12-18 miles North of the St. Lucie Inlet.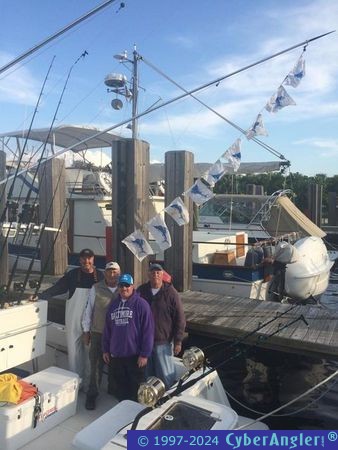 Capt. Patrick Price
www.daymakerfishing.com
(772) 405-0091

More Fishing Reports: