Great Two Days of Fishing........
Capt. Justin Ascherman
April 15, 2010
Tampa Bay - Saltwater Fishing Report

This is a combined report for both 4-13-10 and 4-14-10.
On Tuesday I had the privledge to take out one of my good friend Jim Carter. Jim is one of the teachers that teaches a parenting class at our church, The Crossing Church.
My original plan was to run out of the South Shore of Tampa Bay but with the NE wind at 15-20 MPH constant there wouldnt be many spots with enough water to fish. I decided to head over and put it at Oniels Marina at the base of the Skyway Bridge.
Got the boat in the water and off we went to catch bait. The ride to the bridge wasnt to bad until we got away from the protected water from the land. Made it to the bait spot. It was a bit tricky to get in correct position due to the 2-3 ft waves breaking under the bridge. The big waves made it very difficult to catch bait. After about 30 mins I was able to get enough.
Off to our first spot. The last few trips have produced alot of spanish mackeral in this spot. We only got one Spanish Mackeral and he wasnt even a keeper. The only thing I could think of was we were off the spot due to the wind. I looked over at Jim and he didnt looked to good. He started to get a little nausess so it was time to move spots.
Went over to one of the islands protected my the wind. Used the trolling motor and it took a few mins but i found the school. It was pretty nice there was only two other boats on the school right now. First whitebait in the water and BAM Jim's first redfish. Drag screaming. The first words out of his mouth was "this is defilently not like a bass". After about a 5-10 minute fight we landed her. She measured at 31". Not bad for the first redfish he's ever caught.
The School would move and we would follow. We continued to catch one redfish after another. The redfish bite hasnt been like that in awhile. I was tired of the school moving so I decided to throw out some freebied to see if they would stick around. They stuck around alright, they stated popping the baits like snook do. It was pretty awesome. All three boats caught on and kept the school in one spot. We fished the for about an hour and half and got a total of 10 reds ranging from 29-34".
After that Jim wanted to take some fish home for dinner. We moved off the flat and started working some deeper grass. We started to get some nice sized trout. We ended up with four keepers which was plenty for him and his family for dinner that night.
It was a very windy day which made it very tough. I was glad to be able to get what we did. Very nice to get out and put Jim on some quality fish. I think he'll remember that for awhile.
The next day I promised my 3 year old son Dalton a day fishing with dad. Got some shrimp from the bait shop and off we went. This time there wasnt as much pressure to get on some nice fish so we targeted trout and spanish mackeral out of the Little Manatee River. Got out side the bar and started to get some Spanish Mackeral. Again the wind was howelling out of the NE at 15mph. Due to the wind I decided to go tuck away in the River and stay clear of the wind.
Pulled up to our spot and threw out a gulp swimming mullet for Dalton and had him reel it in. He did that a few times and on the third time i looked up at the rod and noticed it was bent over. I instructed him the proper technique to getting the fish in. He was doing it like a pro, it was pretty cool to see him catch the fish all by hiself. He reeled it right next to the boat and it was a keeper Speckled trout. Dalton sayd to me " I want that one for my belly" so he went in the box along with the Spanish Mackeral.
We sat there for another 45 minutes catching a mixed bag of trout and ladyfish. It was awesome to watch my son. I will remember those moments for ever. After that we went and sat on a sand bar and took a dip in the water. By time that was all over he was sleeping leaning up against me on the way back to the ramp.
I love days like the past two days. Fishing is deflienlty starting to get Hot so get out there and wet some lines.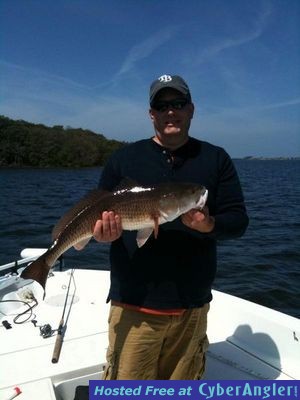 Target Species:

Redfish Trout Spanish Mackeral
More Fishing Reports: