Gulf Beach Snook wind challenge
Capt. Little Jim Fesperman
July 4, 2009
Tampa Bay - Saltwater Fishing Report

Gulf Beach Snook wind challenge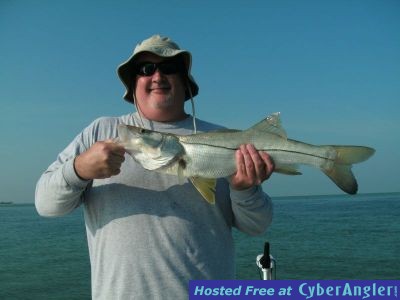 It s it a given that this time of the year that big female Snook are on the beach with a bunch of eager young bucks following her around. So what's the problem? Wind, wind and more wind from the west and northwest. Last week the wind blew so hard that I had to cancel two charters at the ramp on Fort DeSoto. This week was the same. However I met Ed and Sam at the ramp at 5:30 A.M. Monday morning and we were all eager to give it a try as none of us figured we would melt and the rain storms contained no lightening. We faced a stiff Northwest wind blowing 15 to 20 all morning. This eliminated all of my good bait spots and forced me to make a run to the Bait Bucket on Tierra Verde and purchase a couple of dozen expensive pinfish, but well worth price this morning. With the tide high I was able to take some shortcuts to bypass some of the bays choppy waters. We setup on the lee of a little island and were able to entice three nice Snook and three very nice Trout with our store bought pinfish to salvage the day. While we did get rained on three or four times, the biggest benefit was we had no competition as we saw only one other boat on the water all morning.
The cold front stalled and Tuesday and Wednesday were a total wash out requiring channeled charters. I don't know about you but I'm over this constant wind and am looking for normal, if there is such a thing, of east wind in the mornings and westerly sea breezes in the afternoon.
Tampa Bay Fishing Forecast:

Fishing will get only better if the west wind will lay and our normal summer winds begin.
Target Species:

Snook
More Fishing Reports: