Hot Temps in Tampa Bay and a lot of rain
Capt. John Rivers
June 26, 2019
Tampa Bay - Saltwater Fishing Report

Hot Temps in Tampa bay and a lot of Rain!
Wow, we've had our fair share of rain the past three weeks. May was extremely hot, the hottest on record, so the rain was at least a break from the heat.
Now we're up for the month of June for rain, but I'm happy to say even though we've had some serious rain over the past three weeks, the fishing has been tremendous.


I'm still catching some nice snook on the flats even with all this rain. The tides have been high the past two weeks, and that has kept the fish (Snook and Reds), way up under the mangroves, which sometimes helps the fish in their fight to get away by wrapping you up in the mangrove roots, so set the drag and get ready to pull.
So let's talk about what I'm catching right now. Firstly, the Snook bite has been good and since the closure I'm hooking big fish on each trip, and we're regularly hooking a snook or two over 30 inches.
Redfish have been hit and miss, one day we'll do well, and the next day they're nowhere to be found, but as I've said before, that's fishing.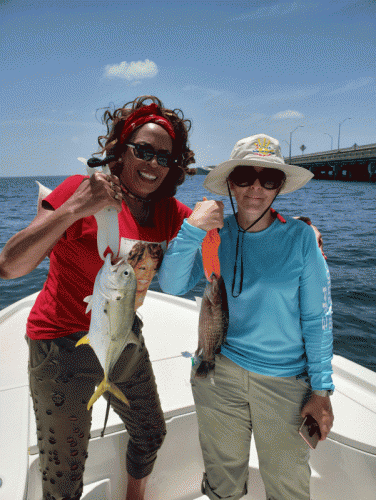 Next up is Trout, and since it's summer, I go a little deeper and I'm doing pretty well with trout when I target them.
Spanish Mackerel fishing has been outstanding over the past 5 weeks and it should continue to be productive over the summer.
The big bite that's really kicked off is the Mangrove Snapper. I'm catching them under the mangroves, obviously, and on docks, rocks, you name it; the Mangrove Snapper are all over Tampa Bay.
Thanks for stopping by; check back in two weeks for a new Tampa Bay Fishing Report.


Check out my Instagram page at captjohnrivers.
I went out on my B-Day and landed my Personal Best Snook a 39" Snookzilla.
Here's a couple pics.


Have a great day. Thanks for stopping by.
Tight Lines... John
Rivers to Bay Fishing Charters - R2B Fishing with Capt. John
727-313-1781
www.tampabayinshoreguides.com
More Fishing Reports: