Mangrove Snapper and Redfish Tampa Bay
Capt. John Rivers
August 20, 2017
Tampa Bay - Saltwater Fishing Report

Tampa Bay Fishing Reports 8/20/2017
The dog days of summer are here. August is one of the hottest months in Tampa Bay, and that is an understatement. But don't fret, (can't say don't sweat), the fishing can still be very good; you just have to adjust your fishing style during these warmer months.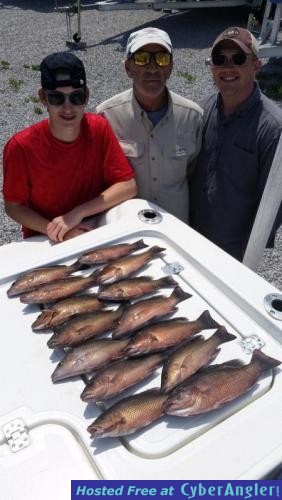 When the water temps heat up like they have been you have to switch gears to get the bites. So lets start off with a fun fish to catch no matter how hot it is out, and that's Mangrove Snapper. The Mangrove Snapper bite has been very good the past two weeks. They are just about everywhere in the bay from the bridges to grass flats, and the best baits are small greenbacks and shrimp.


With the water temps a little above normal try moving to deeper waters where the fish like to go to cool off. Try fishing deep holes 4-7 ft for reds and snook; and also try to go very early and closer to dark in the later afternoon.
A fun thing to do during the dog days of summer is to go shark fishing on the flats for bonnet head sharks. They are a ton of fun on light tackle!


With it being so HOT out on the water, be sure to stay hydrated, fish early and you'll have a productive day on the water.
Capt. John


Check out my Instagram Page and My Facebook Page and click follow.
www.tampabayinshoreguides.com
More Fishing Reports: