March Fishing is Red Hot!
Capt. Trajan Rodriguez
April 3, 2017
Tampa Bay - Saltwater Fishing Report

Over the past couple of weeks the bite has been on fire. Everything is eating in all parts of the bay. White bait seemed to move off the bridges this past week but can still be easily caught on the flats where it usually holds for most months of the year. I like to get as much bait as possible this time of year because chumming is extremely important.
The redfish seem to be on every flat in the bay right now. Slot fish can be found but the majority of these fish seem to be well over the slot. They have been eating great on live white bait but havent stopped to think twice about a cut ladyfish. Big snook can be caught this way as well, including a 43" snook we got this past weekend.
The snook are moving their way out of the creeks and will be slowly working their way back to the beaches. Big snook are going to prefer the larger white baits and the threadfins.
The black drum are holding strong on the bridges and most of these fish are in the 20-35 lb range. They will eat blue crabs on the bottom quickly, once the school is found.
Tarpon season is right around the corner and I am anticipating a great season. Some fish are already being caught down in the lower areas of Tampa Bay.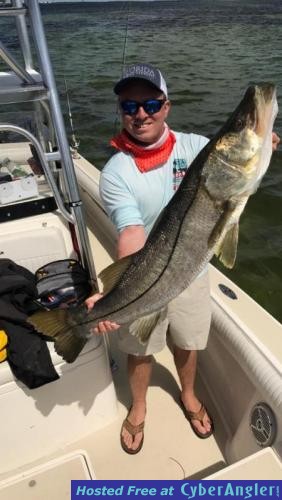 More Fishing Reports: