Plenty Of Slot Size Redfish On Tampa's South Shore Flats!
Capt. Sean Hagen
May 5, 2012
Tampa Bay - Saltwater Fishing Report

Redfish Fishing Tampa Bay's South Shore Flats In Spring!

There has been no shortage of slot size redfish on Tampa Bay's "South Shore"!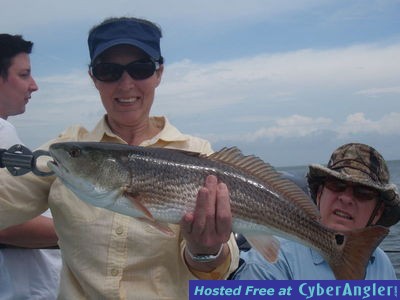 Most of the redfish, Shamrock's clients have been catching on the South Shore charters this spring are ranging in the 22-28 in range.

South Shore redfish have been favoring live sardines ( with heavy chumming) over cut baits. Look for redfish along South Shore potholes on low tide days, in 1-2 foot of water. During high tidal conditions try fishing oyster bars adjacent to deeper water troughs.

In both scenarios the presence mullet schools have been the key factor to a sucessful day of redfish fishing. Once you find the mullet along shallow water potholes or oyster bars position your boat in there line of traffic and fish the mullet highway! Let the mullet come to you and work these schools of mullet with generous portions of live chummers.

Acurrate long distance casts are vital to catching South Shore redfish during spring's clear and skinny water conditions. Free lining lives baits has gotten the best results, but if you need to add a few more feet of casting distance to inorder to hit the zone, try adding a popping cork to your rig.

So, in summary look for the schools of mullet on the Tampa South Shore flats, position your boat, so the mullet come to you. Chum heavy, free line bait or use popping cork, make long casts towards incomming mullet schools and hold on to your rod!
'Till next time have a safe and quality day on the water.
"Fishing Like A Pro" with EUPRO!
Capt Sean Hagen Eupro Pro-Staff director.
1877 357- HOOK (4665)
Target Species:

refish
More Fishing Reports: