Spring Break Fishing in Tampa Bay
Capt. John Rivers
March 18, 2018
Tampa Bay - Saltwater Fishing Report

Spring Break Fishing is here in Tampa Bay and along Clearwater Beach. February was a very warm month in Tampa Bay with much warmer temps than normal which caused the fishing to be very good for Snook and all the other species swimming around Tampa Bay. March has been much different than February; it's been colder, which most think would be a bad thing, but it's not, it cooled down the water temps to where they were supposed to be and the bite is still going strong, and it even fired off the Sheepshead bite.
Since it's been so chilly in the morning especially on the water, layering up is a must and then when the sun warms things up you'll shed the layers. The snook bite has kept anglers bowed up pretty steadily, and some of the fish have been good size, well over 24" and some in the 30+" range.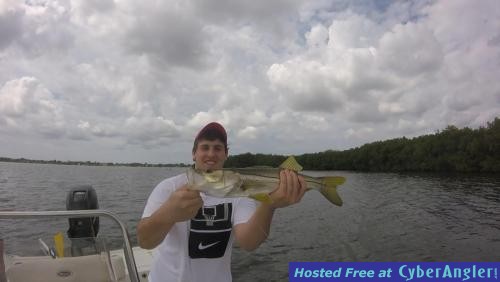 Redfish have made their way onto the flats and the bite's been very good on both live and cut bait. The fish are on the large size, well above-slot, but who's complaining about that, who doesn't love the pull of a bull redfish.
Jack Crevalle have also shown up and if you've never felt the pull of a Jack, you need to get this one off your bucket list; Jacks are one of the strongest inshore species and a blast to fight on light tackle. Speck fishing has been outstanding the past four weeks and should be good the rest of March. Both live and artificials are working well and this year the specks are running big, with many fish between 18"-22".
I've been off the water the past 7 weeks due to having neck surgery but should be back in April. I am booking trips now and have a few days left open in April. If you're looking for a fun day on the water with a veteran inshore guide of 15 years, you've come to the right place. Jump aboard my 2015 240 LTS Triton Bay Boat and let's get you hooked up today. R2B Fishing with Capt. John Rivers to Bay Fishing Charters 727-313-1781 www.r2bfishing.com R2B Fishing with Capt. John :)
More Fishing Reports: