It's Tarpon Time!
Capt. Trajan Rodriguez
May 18, 2018
Tampa Bay - Saltwater Fishing Report

Its that time of year when the silver king begins to make its way into the passes of Tampa Bay. As the fish continue their migration, they will visit us here in Tampa Bay for a few months. The best way to target the silver king is with pass crabs or large threadfins. The crabs cab be easily scooped on the summertime "hill tides." These hill tides occur in the evening of tides on and around the full and new moons. Just about any pass will hold this tarpon candy. Drifting these same passes with the crabs can usually lead you to a couple hookups. Remember to try and keep your crab looking as natural as possible. We have been consistently hooking about 5 fish a trip but days of double digit hook ups are right around the corner.
The tackle of choice is 8 foot Extra Heavy spinning rods with 60 pound braid and 80 pound leader on a 6/0 circle hook. The heavier the tackle, the faster you can get the fish to the boat. This is better for the fish, as well as decreasing the risk of a shark attack. Remember that tarpon over 40 inches can not be removed from the water, and that the head and gills must remain in the water for a picture!
This weeks foul weather most likely will push a majority of the fish offshore until the water cleans up. Till then, the summertime snook bite on the beaches is rapidly picking up. Look for these breeds to be about 5-15 feet cruising off the shore with their nose in the tide.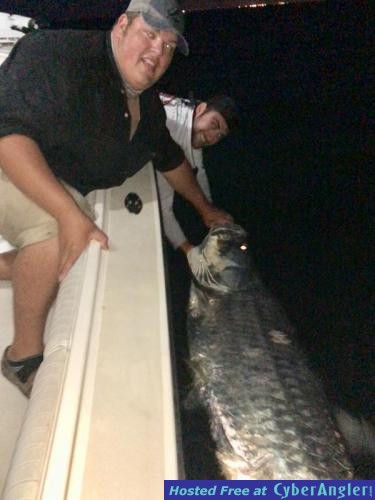 More Fishing Reports: