Cold Air and Water Temps Make Drags Scream As Fish Go Crazy on T
Capt. John Fischbach
March 17, 2017
Tarpon Springs - Saltwater Fishing Report

Captain John Fischbach of Absolute Forida Flats Fishing, a long time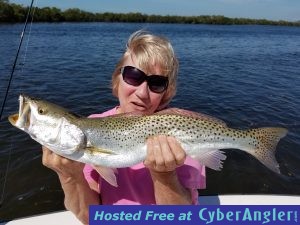 Full-Time Tarpon Springs, Clearwater, Dunedin, New Port Richey, Hudson and port richey Fishing Guide of 23 years reports that the cold and windy weather we have been having in our area, west central Florida's Gulf Coast means two things, 1) the air and water temperature is going to be on the rise in the next 2-3 days and 2)
the Snook Fishing, Red Fishing and trout fishing along with juvenile tarpon will be RED HOT as these temps climb! We had a mild winter and the snook
seemed to be confused… thinking it was time to spawn, prematurely coming out from deep up the Anclote river and Cotee river feeding on finger mullet along with the redfish. Trout just diddnt seem to mind, they've been gorging themselves even in the most hilatios weather in the past 7 days. These subtropical gamefish are down right confused! Honesty has always been the key to happy clients for me. NOW… with the warm up and wanning moon approaching, it's SHOWTIME!!!!!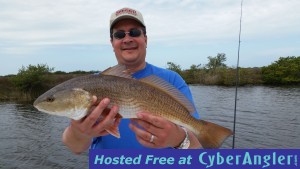 Pilchards have been on the same hide and seek type behavioral pattern… not a problem for a middle aged experienced fishing guide such as myself to acquire such live bait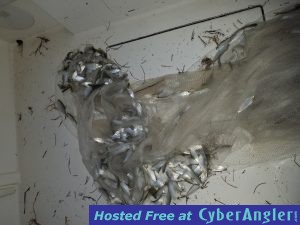 fishing ammo. Lots of other guides travel to the tampa bay area to throw cast nets under bridges and catch decent fish although the boat rides are rough, Tampa Bay is BIG WATER!!!! My regular and new clients travel from a half mile away to 1/4 way around the globe to fish with me as they know that I will take them to old florida fishing locales right here in West Central Pasco county, Pinellas and Hernando where I know I can get them on QUANTITY and QUALITY fish!! Just read my Trip Advisor reviews. Beautiful crisp morning boat rides to decollate areas, and down to shorts and a long sleeve breathable cotton shirt 1/4 of the way into their fishing excursion while enjoying lots of beautiful wildlife and houseless scenary along the way to the fish and back to Anclote Village Marina where theres the famous Miss Vicki's bar and grill. They have "You catch it we cook it" where your catch can go to the fish box to the filet table overlooking the river, where you can have your fish filletes blackened, grilled or fried for a few bucks. LETS GO GET EM!!!! DRESS WARM BUT HAVE LIGHT CLOTHES ON UNDER YOUR LIGHT JACKETS  
Tarpon Springs Fishing Forecast:

With the moon waning and the warm up happening this coming week, fishing and catching will be the true beginning of the 2017 spring strong bite after a nice 7 day windy cold spell well into march!
Target Species:

redfish, snook, trout, juvenile tarpon
More Fishing Reports: