I should have holes in my boat!
Capt. Clay Eavenson
April 28, 2008
Tarpon Springs - Saltwater Fishing Report

4/25-4/28
Because the fish tried their hardest to chew the bottom out of it! The last 4 Tarpon Springs and and Clearwater fishing charters I've had got to do some of the best fishing if the year thus far. 35+ redfish plus 30+ trout plus 5-10 snook days were average days this past week. All I can say is wow. Once the water warmed up after the last cold front, the fish went nuts. It really was an awesome week.
It's springtime and the fish tend to move from one spot to another at the drop of a hat. This happened on Thursday. I worked my way slowly into a spot that had been very productive for 2 weeks straight and when we got there the fish were gone. Instead of just leaving and going to spot "B" I asked my clients if they could be patient and let me look for these fish before we give up on the area. I stayed on the trolling motor for almost a 1/4 mile and just when I was ready to give up, I saw them. They were sitting on the sandy edge of a mangrove shoreline. It was a mix of redfish and snook. We used the Power Pole to stake out and almost immediately started catching fish. The best part about this particular area is that we've been able to fish it for 4 days and even through the busy weekend, when everyone who owns a boat is out on the water, we were still enjoying the fish all by ourselves.
Bait has been plentiful and that has really helped turn otherwise average days in to extraordinary days. We use the excess bait to chum the waters and really get the bite going. We're catching these fish on a shallow flat with no deep water within 1/2 mile. No structure or anything noticeable to hold these fish here. I think it's just a stretch of shoreline that get's good tidal flow and happens to be loaded with bait.
The three most notable hook ups of the week were when Jim, Eric, Orin, and Henry all hooked up on redfish at the same time, when 12 year old Bridget landed a 32" snook all by herself, and when I took my family out after my Sunday charter my son hooked and landed his 2nd ever redfish by himself.
I expect the fishing to stay good all through the beginning of summer. Spring time really is an awesome time to fish here in the Tarpon Springs and Clearwater areas. Bait is everywhere and fish are hungry for it. The weather is usually very mild and the sun isn't scalding. It's the perfect time of year to catch fish.
4/20-4/24
"You're covered in blood and you stink!" That's what my poor wife told me the other night when I got home from a very successful Tarpon Springs fishing charter. I told her, "That's what happens when your clients catch a lot of fish that taste good. Somebody has got to 'clean' them" I still don't know why they call it "cleaning fish". I make a mess when I'm "preparing" fish for for my clients. There's nothing "clean" about it. Anyway... on to the fishing report...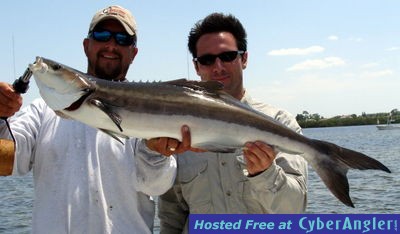 I had 6 fishing charters in 5 days last week. I've been in Apollo Beach, Ruskin, Tampa Bay, Clearwater, and Tarpon Springs. The fish have been in all of those places too. We had different types of fishing and caught different types of fish with each area we fished this past week. It seems like we caught every kind of inshore fish available. Snook, redfish, trout, cobia, spanish mackerel, bluefish, sharks, and one day we even ventured a couple of miles offshore and caught some grouper and mangrove snapper.
The only lull in the action we had was for a couple of days following a cold front last week. We still managed to catch some nice fish but the bite was noticeably off. By the end of the week the water temperature in Tarpon Springs was back up to 75 degrees and the bite was back to normal.
Having a livewell full of greenbacks gave us an opportunity every day to do some heavy chumming and it proved to be the key to success each trip. Lately, instead of throwing out live greenbacks for chum, we've been cutting them up. This way the chum won't swim away and have the fish follow it. By cutting them up and throwing them out, the chum stays in one spot and so do the fish. This has been especially helpful with the redfish.
Later in the week we were able to sight fish for cobia. One day we saw 10 cobia and we managed to hook 4 of them and land 2. They were following large stingrays in very shallow water. If you pitched a bait anywhere close to them, they were all over it. They were so aggressive that on one occasion a cobia ate the bobber before it ate the bait.
The rest of this week should be great. We've got good weather forecasted and the tides are pretty good. The flats and beaches are alive with fish and bait activity. All we have to do is get out there and get 'em.
More Fishing Reports: