Outstanding Inshore and Offshore Fishing !!!
Capt. John Fischbach
July 2, 2016
Tarpon Springs - Saltwater Fishing Report

Absolute Florida Flats Fishing, a long time guide service operating out of Tarpon Springs Florida and running charters in Hudson, New Port Richey, Holiday, Dunedin, Clearwater and the entire West Central Florida Gulf Coast both inshore and offshore charters for many years now, reports that the Snook fishing is phenomonal on the barrier islands along with Tarpon Fishing! With it being the end of June and Pilchards being the
appetizer on the menu and pigfish, grunts, jumbo pinfish and crabs being the entrée and small threadfin herring being desert huge giant tarpon, rolling and flashing under the surface through these schools of baitfish, gorging themselves after the spawn almost seem to be intoxicated from all the natural proteins being absorbed from these important little baitfish on the beaches and in passes up and down Florida's Gulf Coast. While Red Fishing and Trout may be ignored by many while we are blessed with the tarpon migration and Snook spawn, they are plentiful and available. Offshore deep sea fishing is also prime with Grouper and snapper being the desire of many clients, both Gag and Red grouper are targets for many and the oh so famous and delicious Red Snapper season remains open! The Florida Wildlife Conservation Commission has opened both Gag Grouper and Red Snapper a month early this year with scientific data showing that these species are on a very healthy rebound, allowing recreational fisherman certain days to take their bag limit of red snapper. Our 32' contender can run quick and smooth through the Gulf of Mexico where the fish are very plentiful and with the vessel having federal reef permits and migratory pelagic endorsements, we can keep our bag of Red Snapper without interruption. King Fish are still lurking and available with Spanish mackerel and bonito very much available. I have seen free jumping sailfish thrashing through bait schools while bottom fishing. It's a bonanza out there!!!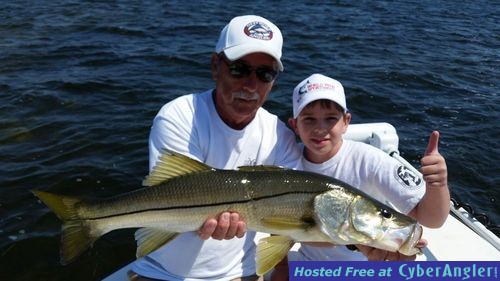 --
Capt. John Fischbach
ABSOLUTE FLORIDA FLATS FISHING
www.captrichknox.com

Tarpon Springs Fishing Forecast:

Offshore Fishing will be you're best bet if the inshore water temp's reach 90*F !!!
Target Species:

Grouper, Snapper, Snook, Red-fish
More Fishing Reports: