Basic Central Florida Fishing Report
Capt. John Kumiski
February 17, 2018
Titusville - Saltwater Fishing Report

Basic Central Florida Fishing Report
We fished the St. Johns River two days and the Mosquito Lagoon two days, decent days all. So it's just a basic central Florida fishing report.
The Indian River Lagoon Chronicles is now available as a paperback book, either from me or from amazon...
For Sale-
Hotel del Rio, Ambergris Caye, Belize. At this eight cabana waterfront property you can put your feet in the sand- right out your front door. http://hoteldelriobelize.com. Call 407.977.5207 for more information.
Upcoming Events-
-Paddle Fishing Seminar, Kayaks by Bo in Titusville, March 17, 5 PM. Please call to reserve your space. 321.474.9365.
-Mosquito Lagoon On-the_Water Show and Tell Seminar, March 18, 8:30 AM. Please visit this link for more information...
-Florida Fly Fishing Association meeting, Kay's Barbeque, Cocoa, March 27, 7 PM.
Monday
Tom Campbell and his cousin Norm joined me in the Mitzi for a day of St. Johns River shad fishing. I felt bad for Norm- Tom just kept reeling them in, often two at a time. Norm could not get the deed done. Tom even caught a painted turtle, hooking it on the right back leg (we dehooked it). A couple crappie were caught. A small channel cat was caught. I don't know how many fish we got but it was, as the Natives would have said, many.
Tuesday
I got my 1st Aid/CPR/AED card renewed. You should have been there!!!
Wednesday
Jim Seale joined me for some fly fishing for shad on the St. Johns River. The shad were pretty cooperative early on. Jim even got a channel cat about three pounds on a shad fly (?). Then the fishing slowed down. Then the wind came up. Then we switched to ultralight spin tackle. Then the bites started again. Then we were almost out of time. Then Jim got a heck of a strike. He played the fish for about ten minutes before I could even try to grab it, which took several tries. The lure of choice for this beast, and it was a beast, was an Al's Goldfish.
Thursday
I went scouting on the Mosquito Lagoon, got four small reds and a few trout in four hours on soft plastic shad lures. I enjoyed the fog.
Friday
Chris Olson joined me for a day of Mosquito Lagoon fishing. There were a lot of boaters out there. Some of them were incredible rude. Other than that the days was fantastic. We did not catch a lot of fish, but the five or six we got (except mine) were all handsome, both reds and trout. A four inch shad was the lure of choice.
And that is the basic central Florida fishing report.
Life is great and I love my work!
 
Life is short- Go Fishing!
John Kumiski
www.spottedtail.com
www.spottedtail.com/blog
www.johnkumiski.com
www.rentafishingbuddy.com
www.smashwords.com/profile/view/jkumiski" target="_blank">https://www.smashwords.com/profile/view/jkumiski 
All content in this blog, including writing and photos, copyright John Kumiski 2018. All rights are reserved.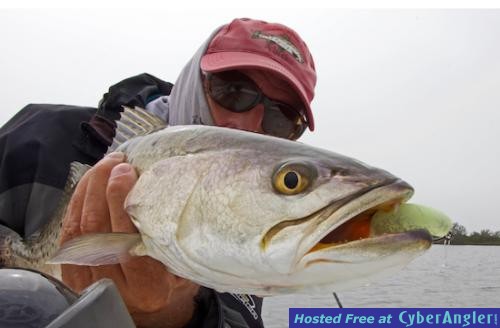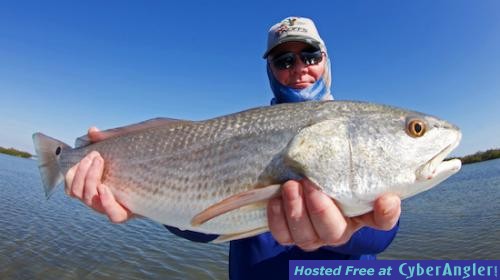 More Fishing Reports: