Central Florida Saltwater Fishing Report
Capt. John Kumiski
April 4, 2020
Titusville - Saltwater Fishing Report

Central Florida Saltwater Fishing Report
Thank you for reading my central Florida saltwater fishing report. We may be discussing some things in addition to fishing this week.
All of us have been affected by the COVID virus. Florida's governor issued a shutdown order, effective as of midnight April 3. Only essential activities allow one to leave the house.
The following activities included as essential in the executive order:
-Attending religious services
-Participating in recreational activities (in alignment with social distancing guidelines) such as walking, biking, hiking, fishing, hunting, running, or swimming (consistent with social distancing guidelines)
-Taking care of pets
-Caring for or otherwise assisting a loved one or friend.
So ah is a' goin fishin, wit de blessin uv de guhvnuh!
I know that this entire episode is taking in horrible human toll in lives, sickness, lost productivity and income, family disruption, etc. Driving is much more pleasant with the deserted roads, though.
Discussing the COVID virus, last week I wrote, "I'm in a high-risk group- if I get it, it will probably kill me."
One of my subscribers, a Ph.D. cancer researcher, sent me this in an email- "Regarding COVID 19 mortality, I don't think we know for certain that age, alone, is an independent factor. Age is strongly associated with a large number of underlying co-morbidities, such as kidney disease, heart disease, lung disease, diabetes, and probably obesity. We don't yet have enough data to say that age is a significant
factor in an otherwise healthy person, someone who doesn't have any of those co-morbidities.
"I am 74 years old and in good health. Until I see better data I'm going to assume that age is not an independent factor. I hope I'm right, for both of our sakes."
I wrote him back, "Age ain't the problem, buddy. I was diagnosed with pulmonary fibrosis https://en.wikipedia.org/wiki/Pulmonary_fibrosis almost a year ago. I've already lost quite a bit of lung function."
Truly, I'm in a high-risk group- if I get this virus, it will probably kill me. I'm being cautious and am not taking anyone other than my wife and sister fishing with me until either I expire or this whole Corona thing blows over.
---------------------------------------------------------
I've watched several documentaries this week, available for free here- www.openculture.com/freemoviesonline. One of those I watched was about 60s counter-culture cartoonist Robert Crumb.
He's still alive and well! One of his recent works was an illustrated Genesis. Talk about coming full circle...
-----------------------------------------------------------
FISHING!
Monday, by myself, I went to Port Canaveral. It was my first Atlantic trip of 2020. I had no information as to where fish or bait might be. As it turned out I didn't need bait because my livewell pump didn't work. If anyone knows someone in central Florida who does good boat electrical work I would love to hear about it. But I digress.
I ran out to the Cape without seeing anything or getting a bite. I was casting there when Jim Ross came roaring by heading north. I followed him, but the Mitzi ain't keeping up with Jim's boat!
While up there I found Spanish mackerel, big ladyfish, bluefish, one gafftopsail catfish, hooked and lost two tripletail. I was tossing jigs, DOA Shrimp, and DOA BaitBuster. Brought two fly poles, didn't even break them out.
A small (for a manta ray) manta ray swam past my boat, 20 feet away. Of course I cast over and around it. It was all by itself, though. Still so cool to see it.
Tuesday and Wednesday it was blowing. I worked on my boat's electric system. Did not find the problem, other than maybe the 12-year old switch panel.
Thursday I took a six-weight and a light spin rod on a Mosquito Lagoon kayak fishing trip. I almost ran over the first redfish I saw. I tossed a slider fly to the second. BAM! No hesitation, a nice slot fish.
There were not a lot of fish but every 30 or 40 minutes, helped by tremendous weather, I'd see one. I had a half-dozen good fly shots, hooked four, caught and released three, and hooked four on a DOA Shrimp, two of which were caught and released. All the fish that struck were very aggressive about it, great to see that!
Friday afternoon took the wife and sister on a dinner cruise- we used the Mitzi to cruise to an Indian River spoil island. There I pulled out a little grill and a salmon fillet. When the fish was cooked we had dinner. Later we packed up and cruised back to Parrish Park, and a fine excursion it was!
"Those who become weary of angling bring nothing to it but the idea of catching fish." -Rafael Sabatini
Life is great and I love my work!

Every day is a blessing. Don't waste it- Go Fishing!
John Kumiski, author of Fishing Florida by Paddle- An Angler's Guide
Purchase Fishing Florida by Paddle- An Angler's Guide at www.spottedtail.com/fishing-florida-by-paddle/
All content in this blog, including writing and photos, copyright John Kumiski 2020. All rights are reserved.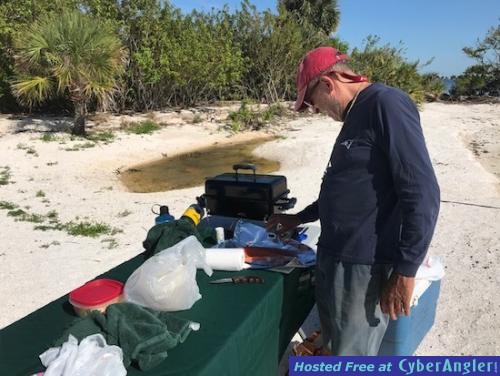 More Fishing Reports: